Acamm's Lodge Chalala
Acamm's Lodge Chalala offers quality accommodation, a restaurant and conferencing in a quiet Lusaka suburb. It is conveniently located 15 minutes' drive from the central business district and 25 minutes from Kenneth Kaunda International Airport. This lodge provides a pleasant atmosphere ideal for family celebrations, friends get-togethers or a romantic dinner. Enjoy an escape from the hustle and bustle of Lusaka city at this serene location.
Lodge
Acamm's Lodge in Chalala offers quality accommodation with 10 self-contained rooms. Rooms include six doubles, one twin and three singles. Each room has a mini-bar, coffee making and climate control facilities. A daily courtesy shuttle bus for lodge guests is available . Premises are highly secure with a 24 hour security.
Chalala is a pleasant residential suburb less than 10 years old. It is developing into a much desired area to live in. Acamm's Lodge Chalala stands out as a quality lodge in beautiful surroundings. There are established schools, clinics and police services nearby. Each room is neatly arranged with simple yet modern décor and essential Wi-Fi connection is available. Lodge facilities
Fully stocked outdoor bar
Mini bar
Patio restaurant
Conference hall
Ample parking
Ample parking
Climate control facilities
Coffee making facilities
Conference hall
Shuttle bus
Acamm's Lodge Chalala · Lodge
Casual dining restaurant
At Acamm's Lodge Chalala guests have a choice of enjoying meals within the restaurant or on the patio in open surroundings. Mingle and share events of the day at the pool side bar which features two large screen TVs and light background music. Attentive staff members are on hand to offer a friendly service.
Restaurant and bar information
Bar is well stocked
Bar opens from 10:00 – 22:30 hours
Choice of cuisines
Breakfast: 06:30 – 10:00 hours daily
Lunch and supper: 12:00 – 22:00 hours daily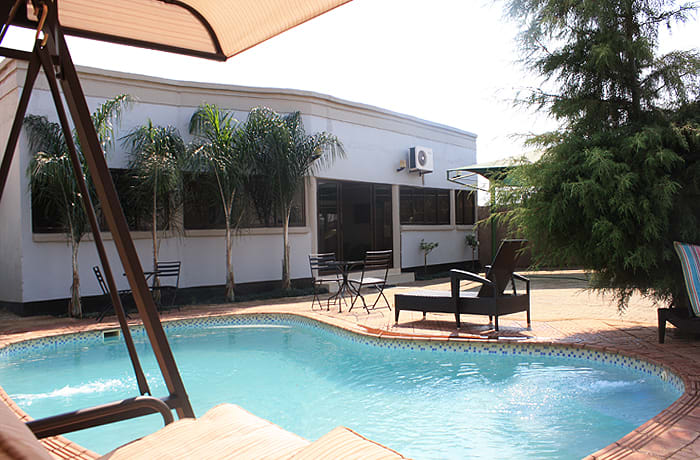 Acamm's Lodge Chalala · Casual dining restaurant
Conference venue
Acamm's Lodge Chalala offers an ideal location for conferences and business meetings away from the city. This conference facility can host up to 50 delegates and includes a delicious buffet lunch, morning and afternoon refreshments and all the expected conferencing materials including screens, flip charts, writing pads and pens.
Located in a serene neighbourhood in Lusaka's Chalala area, Acamm's Lodge is an ideal location for conferences and business meetings, away from the hustle and bustle of the city. Conferencing facilities include a large, well-lit meeting room with a seating capacity of 50 delegates. The conferencing package includes buffet lunch, morning and afternoon refreshments, sparkling water and juices and conferencing materials including screens, flip charts, writing pads and pens. Conference information
Flip charts
Large, well-lit meeting room
Morning and afternoon refreshments
Screens
Sparkling water and juices
Writing pads and pens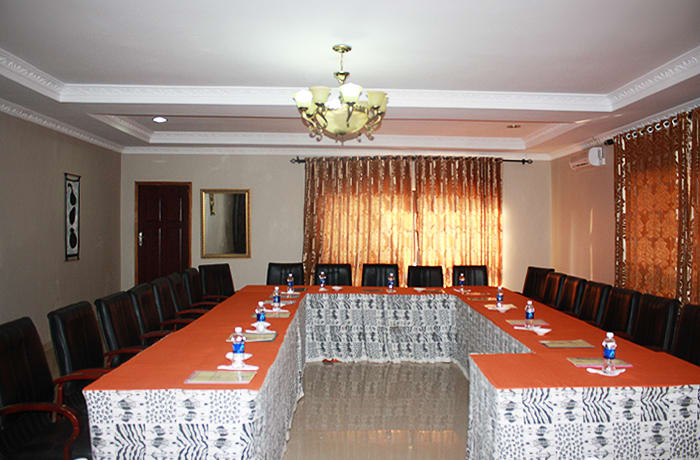 Acamm's Lodge Chalala · Conference venue