African Queen Cruise Company
You can enjoy luxurious cruises on the Zambezi River, and experience all the wonders of nature that this mighty river has to offer. For an unforgettable experience, take a cruise upstream from the Victoria Falls on the African Queen or its sister boat, the African Princess. Morning or sunset cruises include snacks, or a mid-day cruise has lunch thrown in. Spectacular views of the Zambezi River and the surrounding game reserves, also ideal for private functions including conferences.
Day cruises
The African Queen accommodates up to 120 guests on board the luxury cruiser. The African Princess carries a maximum of 80 passengers. Activities include game viewing, birding while cruising on the Upper Zambezi River. Enjoy your choice of one of the cruises on the top, mid or lower deck.
An unforgettable experiences that will take you back to an era when time stood still. On arrival at the Royal Landing, you are greeted with a cold cocktail and the sounds of the Marimba Band, a local instrument that laments the sounds of Africa. A full bar on both upper and lower deck serve a selection of cocktails, iced drinks and a variety of snacks. The African Queen embraces both the mystery and tradition of an African way of life untouched by time.
Cruise options
Breakfast cruise: Enjoy a two-hour sunrise cruise promises not only the early morning yawn of the hippo, the cry of the fish eagle and delicate reflections on still water, but also a sumptuous breakfast fit for royalty.
Mid morning cruise: Experience the African savannah as it goes about its day on this leisurely two-hour cruise. Light snacks and pastries are served while you enjoy tranquillity at its best on the spectacular Zambezi River.
Lunch cruise: Enjoy delicious African cuisine, surrounded by nature and wildlife as they relax in the midday heat. There is no better place to feel refreshed and cool than on the river for a peaceful one and a half hour cruise.
Sunset cruise: Hear the call of Africa while sipping traditional cocktails and enjoying delicious snacks in the fading twilight hours on this fabulous two hour cruise.
For those wanting a more private affair, the Captain's Cabin provides the ultimate in luxury and exclusivity. Enjoy your choice of one of the above cruises on the top deck, in the exclusive company of the Captain.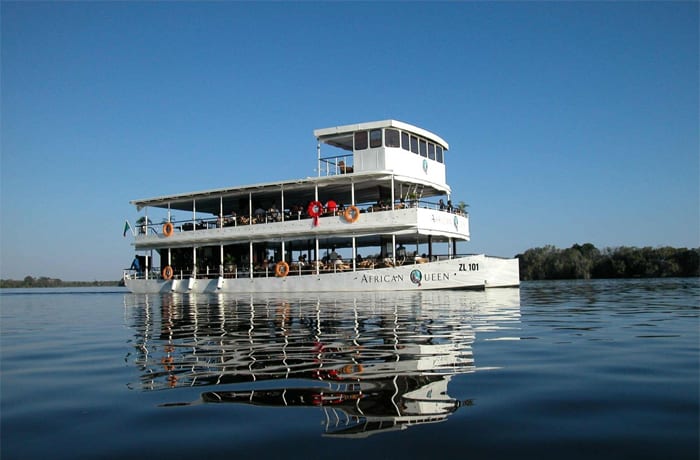 African Queen Cruise Company · Day cruises