Brux Ltd
The store is an exclusive supplier of Forza men's clothing and accessories. Brux is the only supplier of the Forza brand of menswear in Zambia and has a wide selection of brands to suit different occasions and lifestyles. A team of friendly shop assistants are always on hand to ensure that your shopping experience is easy and comfortable.
Clothing and Accessories
Brux Ltd is a formal, stylish and smart clothing and accessory store that caters specifically for the modern man. Brux has high standards, only supplying stock of superior quality. With the range of brands available at Brux, you can make a strong style statement! Brux Ltd has three outlets in Lusaka and one in Livingstone.
Their range of exclusive stock include fashionable clothing and accessories such as suits, office shirts, golf T-shirts, men's underwear, ties, watches, polarised sunglasses and fragrances. The Brux footwear range includes high quality Italian shoes, boots, sneakers, rafters and other footwear.
The shop interior has a clean modern look with air-conditioning facilities and a number of fitting rooms for the convenience of its customers.
Brux stocks some of the following brands:
Adidas
Alligator
Calvin Klein
Camel
D&G
Emperio Armani
Gian Franco Ruffini
Harley Davidson
Hugo Boss
Ita Calvino
Jeep
Levi's
Nike
Paul & Shark
Pierre Cardin
Ralph Lauren
Roca Wear
Sean John
Timberland
Brux limited has outlets in:
Lusaka
Cairo Mall, Shop 5
Levy Business Park, Shop 9
Manda Hill Mall, Shop 20
Livingstone
Range of menswear
Blazers and corduroy jackets
Boxer shorts
Cargo pants and shorts
Chinos
Formal and casual shoes
Fragrances
Jeans
Leather belts
Office trousers
Safari jackets
Single and double cuff shirts
Socks and hankies
Suits
Sweaters and hoodies
Ties
T-shirts and khaki shirts
Watches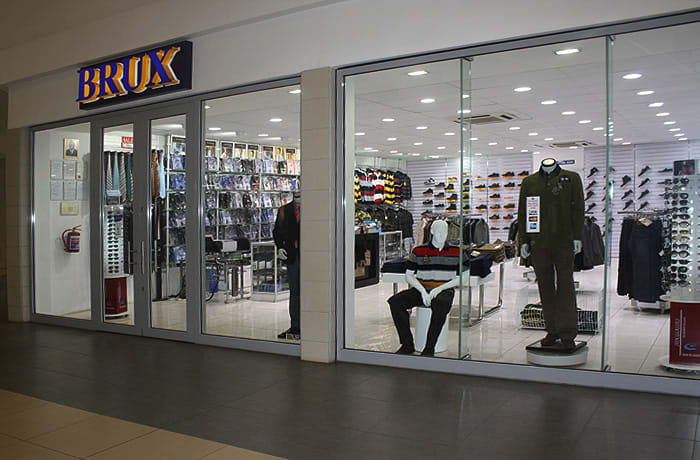 Brux Ltd · Clothing and Accessories