Camran Foods Debonairs Pizza
Camran Foods brings five Debonairs Pizza take away restaurants to Zambia - Kabulonga, Levy Mall, PHI Mall and Chilenje in Lusaka, and Falls Park in Livingstone. This is pizza made for pizza lovers by pizza lovers! It's that simple. Every innovation, each special, every new menu item keeps this important fact front and centre. Now you can try something made just for you. Enjoy a choice of fresh hot pizzas from Debonairs Pizza with free delivery within a radius of 5km.
Take away restaurant
Camran Foods' Debonairs Pizza guarantees you the best take-away pizzas in Zambia. You want your pizza hot and fresh – Debonairs Pizza gives you the 'hot or not' sticker. You want your pizza filling extra tasty – Debonairs Pizza gives you the famous Triple-Decker®!
Promotions
Awesome Foursome – Choose 4 out of 6 pizza flavours to make the Awesome Foursome
On the double feast – 2 Large On The Double® pizzas with 2 sides and a 2l coke
New real deal pizzas – Real toppings, real cheese, real taste, real value
Meat pizzas
Hawaiian – Ham and pineapple
Something meaty – Ham, pepperoni, bacon, ground beef, BBQ sauce
Club – Ham, bacon, chicken, Debonairs Pizza sauce, parsley
Four seasons – Pepperoni, mushroom, olives, green pepper, onion
Meaty grill – Spare rib, bacon, BBQ sauce and parsley
Mexican Fiesta – Ground beef, jalapeños, green pepper, onion, Mexican sauce
Chicken pizzas
Chicken and Mushroom – Chicken, mushroom, tomato, onion, Debonairs Pizza sauce
Tikka Chicken – Chicken, mushroom, sweet bell pepper, onion, tikka sauce, spring onion
Sweet and Sour – Chicken, green pepper, pineapple, sweet & sour sauce
BBQ Chicken – Chicken, mushroom, onion, BBQ sauce, spring onion
Vegetarian pizzas
Original Veggie – Mushroom, olives, pineapple, onion, tomato, spring onion
3 Cheese – Mozzarella, cheddar, feta, sweet bell pepper, spring onion
Margherita – Debonairs Pizza special blend of tomato and herb pizza sauce with tomato
Speciality pizzas
Chicken Triple-Decker® – Three layers, three cheeses: Debonairs Pizza secret cream cheese, chicken, fresh tomato, mushroom, onion, sweet bell pepper, tomato and herb pizza sauce, mozzarella
Meaty Triple-Decker® – Three layers, three cheeses: Debonairs Pizza secret cream cheese, ground beef, spare rib, ham, onion, tomato and herb pizza sauce, mozzarella cheese, topped with BBQ sauce
Chicken-filla® – Debonairs Pizza secret cream cheese, chicken, mushroom, onion, Debonairs Pizza sauce and mozzarella cheese between two large bases, dressed with sliced tomatoes, cheddar
Meaty-Filla® – Debonairs Pizza secret cream cheese, bacon, ground beef, ham, Debonairs Pizza sauce and mozzarella cheese between two large bases, dressed with sliced tomatoes, cheddar
Chicken Double-Stack® – Debonairs Pizza secret cream cheese filling sandwiched between two crisp bases and topped with tomato and herb pizza sauce, chicken, mushroom, onion, fresh tomato
Meaty Double-Stack® – Debonairs Pizza secret cream cheese filling sandwiched between two crisp bases and topped with tomato and herb pizza sauce, ground beef, bacon, onion, fresh tomato
Chicken Crammed-Crust® – A crust crammed with pork cheese grillers and the pizza topped with chicken, mushroom, tomato, onion, Debonairs Pizza sauce and spring onion
Meaty Crammed-Crust® A crust crammed with pork cheese grillers and the pizza topped with cheese
Sides
Cocktail cheese grillers, Pop-ltz and BBQ Chicken wings
Subs
Tikka Chicken Sub – Chicken, sweet bell pepper, onion, tikka sauce, spring onion and mozzarella
Chicken and Mushroom Sub – Chicken, mushroom, tomato, onion, Debonairs Pizza sauce and mozzarella
Vegetarian Sub – Olives, pineapple, onion, tomato, spring onion and mozzarella
Something Meaty – Ham, pepperoni, bacon, ground beef, BBQ sauce and mozzarella
Club Sub – Bacon, ham, chicken, Debonairs Pizza sauce, parsley and mozzarella
Sweet and Sour Chicken Sub – Chicken, green pepper, pineapple, sweet and sour sauce and mozzarella
Cheese and Garlic Sub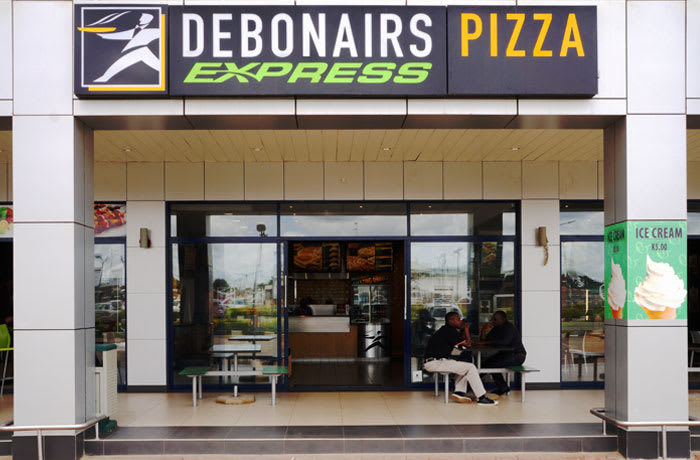 Camran Foods Debonairs Pizza · Take away restaurant