Comfort Corner Guesthouse
Comfort Corner Guesthouse was established in 2004. It is situated 10 km from the Victoria Falls and Zambezi River. For clean and friendly budget accommodation in Livingstone, try Comfort Corner Guesthouse. It is near the Victoria Falls, restaurants and entertainment in Livingstone, Zambia. Meals and beverages are provided. All rooms have en-suite facilities, air conditioning or ceiling fans, with 24 hour security TV. The nearest restaurant and casino is a two minute walk away.
Guest house
Comfort Corner Guesthouse offers accommodation and domestic tour activities. The rooms have satellite TV and mosquito nets. Each room is self-contained with a shower and free toiletries. The guest house provides meals and beverages upon request. At Comfort Corner Guesthouse in-room breakfast is available and free.
Comfort Corner Guesthouse is located in a popular area for international tourists and close to the city this allows tourist's access to restaurants, supermarkets, casinos, nightclubs and many other facilities.
With fewer than 20 rooms, Comfort Corner Guesthouse offers the intimacy of a small accommodation. The guest house provides free breakfast for guests, it also has an area where guests enjoy free smoking. Guests enjoy the comfort of good air conditioning, housekeeping services and wireless high-speed Internet access. The 3-star rating promises an enjoyable stay in Livingstone. The guest house is found in a quiet area but allows its clients to access tour activities near the Zambezi River.
Tour activities
The 24-hour staff can organise elephant rides, safari trips and tours to the Mosi-oa-Tunya National Park, bungee jumping, water rafting and river boarding can also be arranged. The guest house makes booking for tour activities with tour companies like SafPar which operation cruises, helicopter rides and others activities.
Activities in Livingstone:
Tour of the Mighty Victoria Falls
Tour of the Mosi-oa-Tunya National Park
Bungi jumping
Water rafting
River boarding
Boat cruise
Gorge swing
Elephant and horse back safari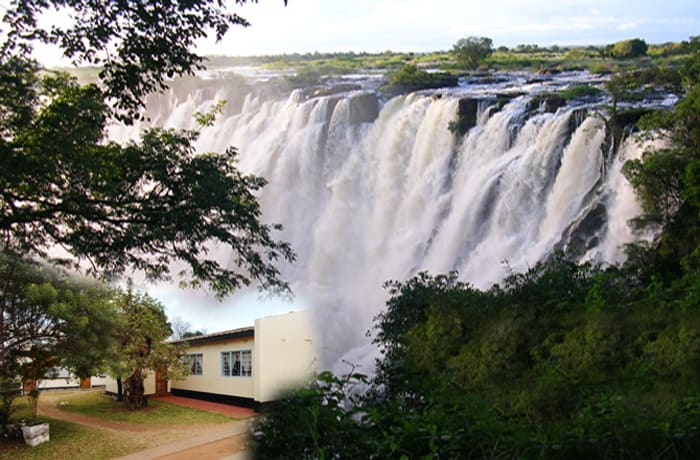 Comfort Corner Guesthouse · Guest house