Damru Enterprises Ltd
Established in 2003, Damru Enterprises manufactures high quality premium decorative and industrial paints and coatings. This company manufactures all types of paints under their brand, Everest Paints. It also supplies industrial chemicals used in paint manufacturing together with different types of adhesives. Damru Enterprises prides itself on product and service excellence that exceed its customers expectations. It is dedicated to providing superior technical support and the highest quality products.
Building materials
Damru Enterprises manufactures and distributes all types of household and industrial paints, high quality air drying varnish, adhesives, aluminum paints, enamels, emulsion paints, epoxy paints, gloss, enamels, nitro sanding sealers, stoving industrial finishes, stoving varnish and wall filler. The company's products brand name is Everest Paints.
Everest Paints manufactures As a knowledgeable paint and surface coating supplier, Damru Enterprises is committed to providing their customers with the highest quality products available. The company manufactures the following:
Air drying varnish
Adhesives
Aluminum paints
Enamels
Emulsion paints
Epoxy paints
Gloss enamels
Nitro sanding sealers
Stoving industrial finishes
Stoving varnishes
Wall filler
Damru Enterprises also offers a wide range of:
Wood finishers
Undercoats
Primers
Technical services Damru Enterprises, Everest Paints technical consultants are available at depots to offer advice on surface treatment and the use of Everest products. Specification sheets for all Everest products are available. The technical support team assists you with any questions or concerns that you may have, whether it's on colour, correct products or quantities required.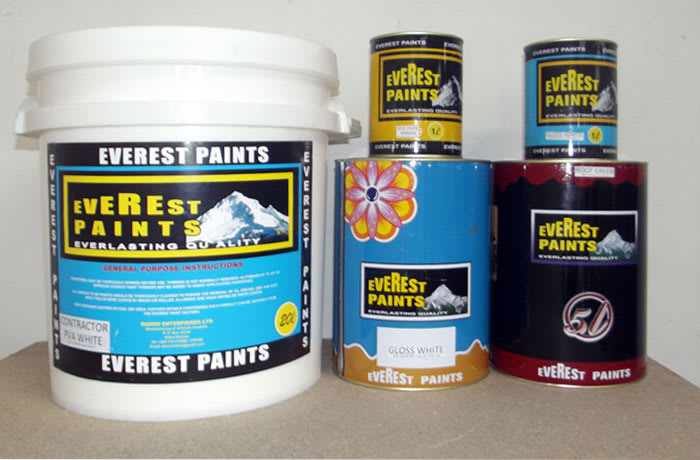 Damru Enterprises Ltd · Building materials