Daybreak Butchery & Take-Away provides fresh, great-tasting food that satisfies Zambians' hunger and makes feeding the family more convenient. All kinds of fresh, quality meat at farm prices - beef, pork, chicken and lamb, as well as fresh milk and farm vegetables - are available at Daybreak Butchery & Take-Away on Kafue Road, 35km south of Lusaka, 10km north of Kafue. Pop in; you'll be welcome! Your Daybreak Butchery contact is Chimese Nchito.
Food and Groceries
Daybreak Butchery & Take-Away supplies high-quality fresh meat that includes pork, steak, chicken, ground beef, and deli meats. Its prime cuts are perfect for grilling and roasting, for boiling stews and frying hamburgers, satisfying the community, and your family, every day and at every meal.
Meat products
Daybreak Butchery & Take-Away has built a well-deserved reputation for providing fresh, quality meat and good customer service. The butchery supplies meats that include ground beef, cube steak, pork, chicken, lamb, fresh milk, farm vegetables to several local restaurants and residents. Daybreak Butchery & Take-Away is also the supplier of choice for many fine-dining restaurants and butcher shops throughout Lusaka. The animals are humanely raised in healthy environments, without the use of growth hormones.
Fresh vegetables
Want a wide variety of fresh produce? Daybreak Butchery & Take-Away is your source for fresh fruits and tomatoes, carrots, broccoli, spinach, avocados, and much more.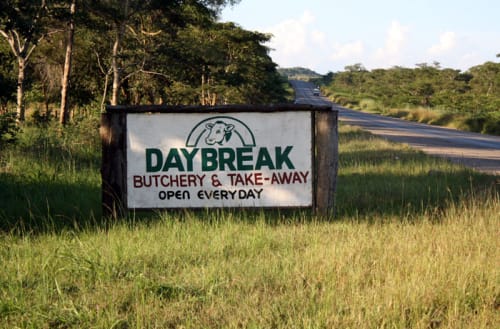 Daybreak Butchery & Take-Away · Food and Groceries