Debonairs Pizza Manda Hill
With various outlets in Zambia, Debonairs Pizza offers an extensive range of hot fresh pizzas, hot subs, side orders and drinks. Visit the award-winning Debonairs Pizza, one of the leading pizza restaurants in Africa. Debonairs Pizza are the pioneers of free delivery and the Hot or Not dot – if the dot is red, then the pizza is hot and fresh; if it's black, the pizza is free! Debonairs Pizza's mobile and internet service allows customers to order their favourite Debonairs pizza from their cell phone or computer.
Take away restaurant
Debonairs Pizza has a creative menu that includes the Triple-Decker, Crammed-Crust, Pizza-Filla and more. Some of the options available include the massive 'chicken triple decker' or the 'meaty-filla' with oodles of ingredients, cheeses and toppings to create mouth-watering pizzas.
Debonairs Pizza menu items are low in cholesterol, containing less than 20mg of cholesterol for every 100g of food. The restaurant is committed to serving the finest pizza by using the freshest ingredients of the highest quality. It aims to create a fun-loving and lasting relationship with every client by anticipating, listening, and responding to their needs, and by surpassing their expectations. Expect innovative, great tasting pizza, quick friendly service and superior value in a convenient and clean atmosphere. Debonair's menu outline
Pizzas
Side orders
Subs
Soft drinks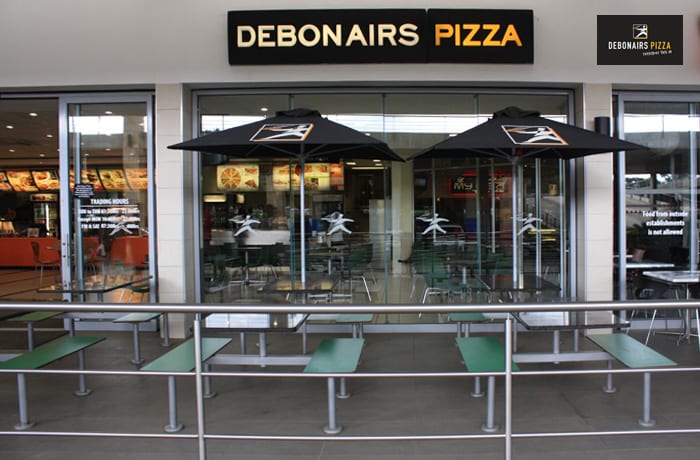 Debonairs Pizza Manda Hill · Take away restaurant