Dutch Reformed Church Craft Market
The Dutch Reformed Saturday Market has been running for decades and is usually held on the last Saturday of each month. It is extremely popular so get there early to catch the best offers! Buy curios, furniture, clay pots, beadwork, books, kuba cloth furnishings, handbags, design-led chitenge clothing, fruit, veg and plants. It is a place where stall holders, talented Zambian craftsmen and women to expatriates meet to sell a wide range of products.
Tourist attraction
Set in a quiet and safe neighbourhood, the Dutch Reformed Church Craft Market is a place where you can buy a wide variety of craft items, locally manufactured furniture, locally produced foods, second hand books, fruits and veg, and plants for your garden. A fund raising activity for the church.
The market is in a very safe neighbourhood with well trained guards to ensure you and your valuables are safe. The Dutch Reformed Church Craft Market is a great place to shop and interact with the traders. You will be constantly amazed at the great artistic ideas. This is a great place for unique souvenirs.
After shopping, enjoy delicious meals at the food section of the market. There is a wide variety of both local and international foods to choose from.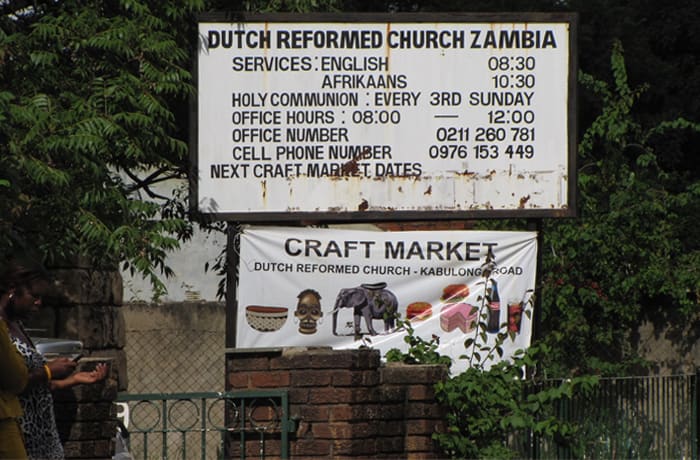 Dutch Reformed Church Craft Market · Tourist attraction