Eight Reedbuck Hotel
A boutique hotel of choice for discerning travellers. For an elegant dining experience, Eight Reedbuck Hotel offers an intimate and stylish setting surrounded by tasteful African themes. You can enjoy your meal indoors or outdoors. The hotel has professional and stylish conferencing facilities with 2 break away rooms and the garden for more informal meetings. Other facilities include an intimate gym and swimming pool.
Hotel
Situated in a leafy suburb, it is an elegant, modern and culturally informative hotel. The distinctive twist at Eight Reedbuck Hotel is that all the luxurious suites are named after Zambian tribes and you'll become visually aware of Zambia's rich culture and ceremonies. It is a refreshing retreat for those who just want to get away from it all.
You will be able to feast your eyes on modern African décor and enjoy private gardens equipped with outdoor jacuzzis and stylish public spaces. Eight Reedbuck is ideal for executive business travellers who want a luxurious stay.
Accommodation at Eight Reedbuck comes with unprecedented attention to detail, put together in a way that takes you on a tribal journey and provides a calm space for rejuvenation and reflection. Every room is furnished in a sophisticated style inspired by the colours, tradition and culture of the particular Zambian tribe. All rooms have a lounge area and you can choose rooms with separate bedrooms and living areas if desired. All ground floor suites have private gardens, the larger ones having outdoor jacuzzis.
The rooms include superior suites with tribal designs in the style of the Lamba, Bemba, Ngoni, Bisa, Kaonde, Luyale, Lunda and Mambwe. For ultimate luxury go for the deluxe suite in the Lozi tribal design and the studio suite in the style of the Bantu Botatwe tribe. The Mutundu apartment is great for those on longer stays. To find out more about these tribes you'll need to visit Eight Reedbuck where you'll find Zambian ceremony books displayed in each room.Hotel facilities
Wireless internet
Digital satellite TV
32″ LCD TV's
DVD and CD
MP3 audio visual systems
Air conditioning
Whirlpool baths
24 hour room service
Fitness suite
Swimming pool
Laundry service
Accommodation rates
Superior suites: $250 – $275
Deluxe suite: $300 – $325
Studio suite: $400 – $450
Apartment: $500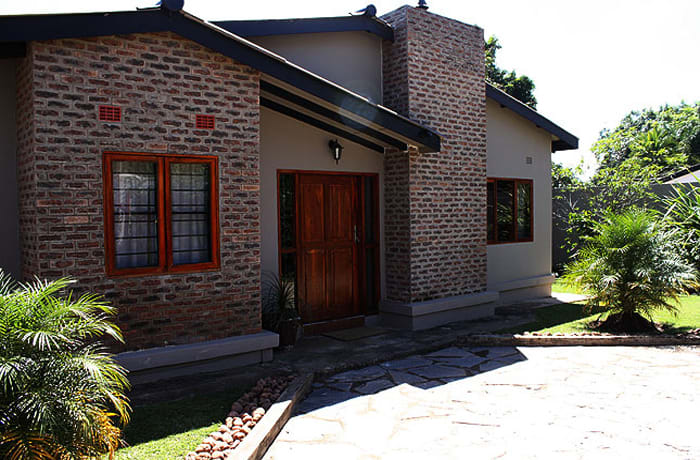 Eight Reedbuck Hotel · Hotel
Fine dining restaurant
The 'GR8′ Lusaka restaurant at Eight Reedbuck Hotel is immaculate and surprisingly simple. It is a designed with an indoor-outdoor concept in mind. The menu is exciting, celebrating the freshest local ingredients, with dishes that awaken the taste buds with an array of flavours not limited to culinary borders.
This is a fabulous place to eat in Lusaka. It is open to the public for lunch and dinner, you can come here to enjoy a delicious meal, a tasty snack or just a coffee. Visitors are welcome to relax in the stylish spaces that Eight Reedbuck has cleverly designed to allow guests to meet, dine and share.
There is a gentleman's lounge, a dining room, shaded outdoor spaces and the Katoka bar area. The Eight Reedbuck Hotel waiter service is ideal for entertaining business guests, friends and family, or for relaxing prior or post dinner.Lusaka restaurant facilities
Breakfast is served from 06:30 to 09:30 daily
Full English or Continental breakfast
Lunch is served between 12:00 and 14:00
Dinner is served from 19:00 to 22:00
Katoka bar open daily from 12:00 till late
A separate residents menu is available all day
Gentleman's lounge
Dining room
Shaded outdoor spaces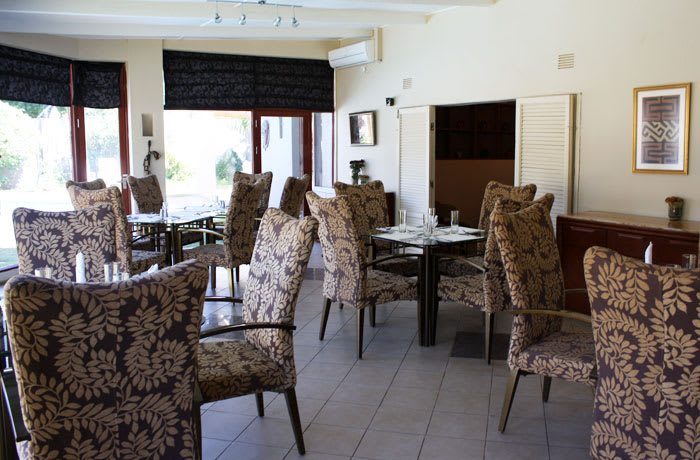 Eight Reedbuck Hotel · Fine dining restaurant
Function venue
The Eight Reedbuck Hotel conferencing service is all about high standards with a personalised approach. The secluded grounds ensure privacy and security – perfect for businesses meetings, training and conferences. The conference room is appealing in dark woods and leather.
Also available are two break away rooms forming the Ndaba Meeting Centre. Unique original works of art create inspiring surroundings for meetings and conferences whilst stylish in-room coffee machines and mini-bars provide on tap refreshments. Attention to detail and dedicated staff ensure that delegates can meet in comfort.
If you need to ensure your delegates are well provided for with sophisticated class and attention to detail then Eight Reedbuck Hotel could well be what you are looking for.Conferencing facilities
Capacity for up to 25 delegates
Two break away rooms
Refreshments and food available for delegates
Accommodation available for delegates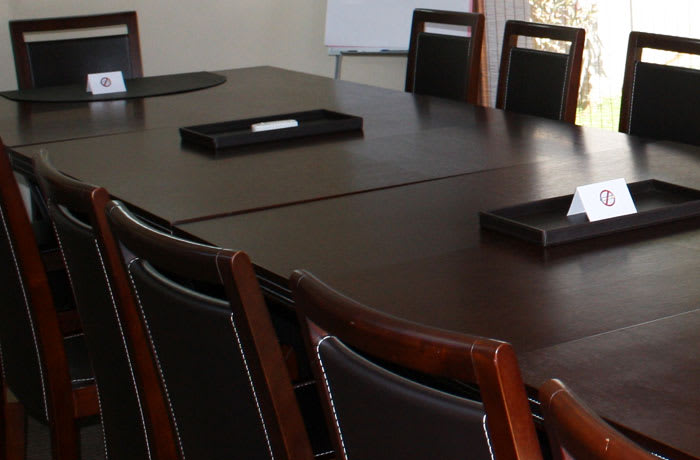 Eight Reedbuck Hotel · Function venue