Four Pillars Lodge
Four Pillars Lodge provides new and attractive accommodation with modern facilities in a secure and relaxed environment. This is a great place to stay for international and local business visitors. Located in the Mass Media Area opposite Zambia National Broadcasting Corporation, Four Pillars Lodge is in close proximity to several restaurants and just five minutes away from Lusaka's popular Manda Hill and Arcades shopping malls. There are also two golf clubs just 15 minutes away!
Lodge
This small, comfortable and friendly lodge offers a deluxe self contained suite, a double self contained room, a twin room with shared bathroom and a double room with shared bathroom. These rooms come with free Wi-Fi and satellite TV, providing various channels including news, sports, music, kids and movies.
Most guests will value the opportunity to keep in touch with their family and work colleagues elsewhere in the world. With that in mind Four Pillars Lodge offers a free Wi-Fi internet connection to guests. Satellite TV is also available in every room.
The lodge has a restaurant and bar for guests and their visitors. The resident chef prepares Zambian, western and oriental dishes. A free laundry service (not dry cleaning) is available for guests.
Accommodation includes
1 x delux self contained suite
1 x double self contained room
1 x twin room with shared bathroom
1 x double room with shared bathroom
Room rates include continental breakfast and full board rates include lunch and dinner as well as breakfast.Four Pillars Lodge services
Free Wi-Fi
Shuttle transport to and from the airport
Satellite TV
Free laundry service
Restaurant
Bar
Room rates include breakfast
Check out time is 10:00
Four Pillars Lodge is near
ZNBC Mass Media Complex
Lusaka Golf Club
Chainama Golf Club
Several restaurants
Manda Hill Shopping Centre
Arcades Shopping Centre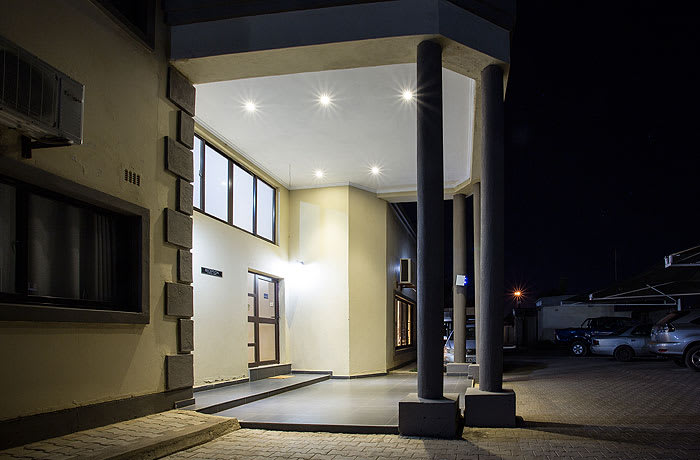 Four Pillars Lodge · Lodge
Casual dining restaurant
The intimate, modern Four Pillars Lodge restaurant has simple décor that makes guests feel right at home. It is open to both residents and walk in diners. Specialities include traditional and western cuisines, with a wide range of dishes to choose from. There is also a bar stocked with a full complement of local and imported beverages.
The restaurant is open for:
Breakfast at 07:00 to 10:00 hours
Lunch at 12:00 to 14:00 hours
Dinner at 19:00 to 20:00 hours
The restaurant also offers outside catering for venues throughout the country.
The bar is open from 10:00 to 22:00 hours daily. Enjoy a selection of popular cocktails such as long island, blue lagoon and more.Restaurant and bar information
Both are open to the public
Traditional and western cuisines
Local and imported beverages
Bar open from 10:00 – 22:00 hours
Outside catering available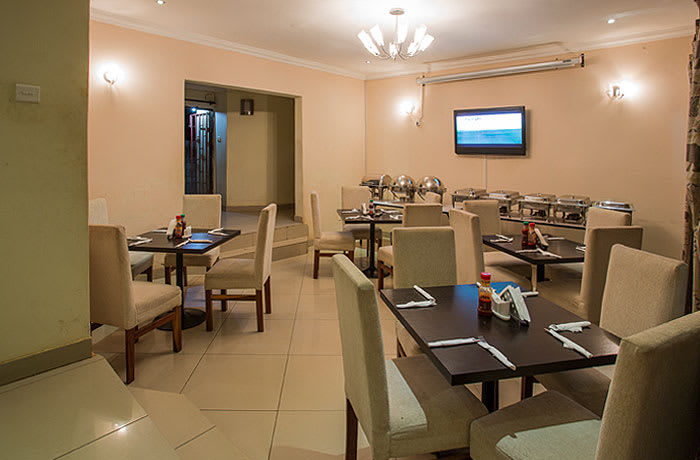 Four Pillars Lodge · Casual dining restaurant
Conference venue
Four Pillars Lodge has a choice of two venues for its conferencing service: the main conference hall which can host up to 30 people, and a boardroom which hosts a maximum of 20 people. These venues are ideal for conferences, business meetings and other corporate events.
Four Pillars Lodge conferencing facilities include:
Air conditioned rooms
Projector and white screens
Mineral water
Note pads
Pens
Flip charts
Mints
Writing pads
The lodge facilities, such as the restaurant and bar, are open to conference guests, and catering can be arranged. Friendly and efficient staff members are always available to make each conference an enjoyable and successful event.Conference information
Ideal for conferences and corporate events
Main hall – 30 people maximum
Boardroom – 20 people maximum
Lodge facilities open to conference guests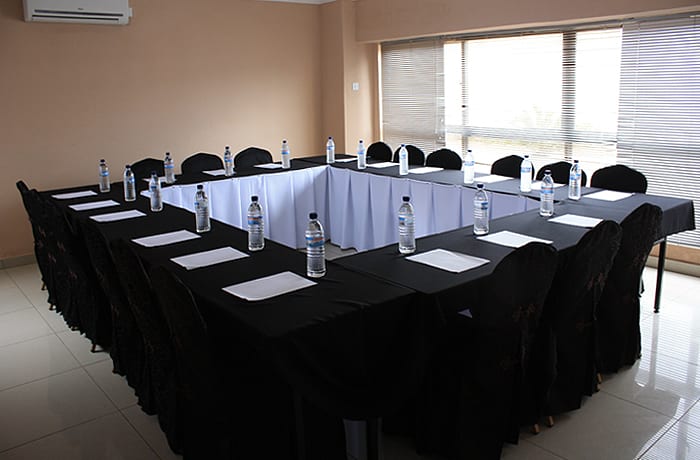 Four Pillars Lodge · Conference venue