Goat 'n Chips
A new goat and chip experience offering a wide variety of freshly prepared and delicious food. Goat 'n Chips continues to add innovative dishes to the range, to satisfy even the most discerning of palates. The restaurant believes in using only the highest quality ingredients. At this friendly, welcoming restaurant, you will find the finest of food at surprisingly reasonable prices. The interior is modern, with classic touches running through, to create a crisp and clean environment.
Take away restaurant
Enjoy great meals with friends and family at this beautiful restaurant. Goat 'n Chips serves fried, grilled, boiled and smoked goat meat with chips. There is also a variety of pies, shawama, burgers, salads and non-alcoholic beverages. All meals are made fresh when you order, from fresh goat meat and potatoes.
Menu
Goat 'n Chips - Fried goat 'n chips Grilled goat 'n chips Smoked goat 'n chips
Sausage - Goat sausage 'n chips Plain goat sausage
Plain goat - Boiled goat Goat curry Plain goat Goat offals
Wheat products - Special goat burger Goat burger Goat samosa
Starch - Plain chips Nshima Rice
Shawama - Ordinary goat shawarma Whole wheat shawarma Goat liver shawarma
Salads - Greek Garden Coleslaw Beans
Drinks - Coca cola Fanta Sprite Minute maid Mineral water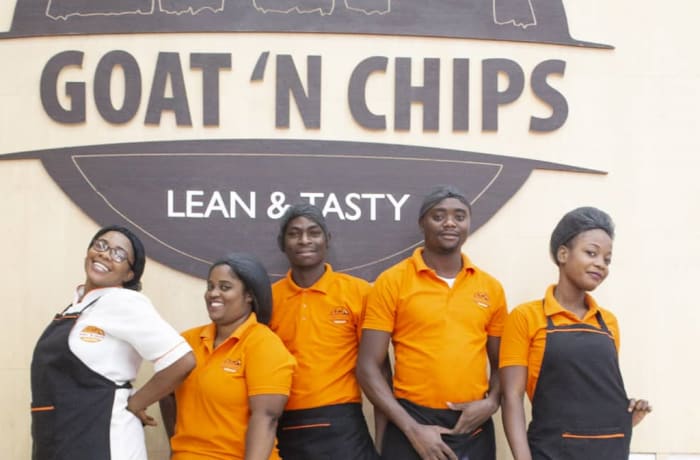 Goat 'n Chips · Take away restaurant
Casual dining restaurant
Leave the cooking to someone else and enjoy freshly prepared goat meat with chips, rice or nshima. Goat 'n Chips takes pride in their experienced chefs to prepare superb meals. The restaurant believes in good customer service, quality produce and the importance of a comfortable environment for their guests.
If you are looking for a good family restaurant, visit Goat 'n Chips. They have the expertise, reliable customer service and services you deserve. Goat 'n Chips is renowned for their high quality and affordable goat meat, chips, shawarma, burgers, samosas and salads.
The restaurant is committed to ensuring that each guest receives prompt, professional, friendly and courteous service, as well as a clean & comfortable atmosphere. Goat 'n Chips strives daily to provide a quality meal for a reasonable price, using some of the best ingredients they can find in their recipes. No food leaves their kitchen that themselves would not eat.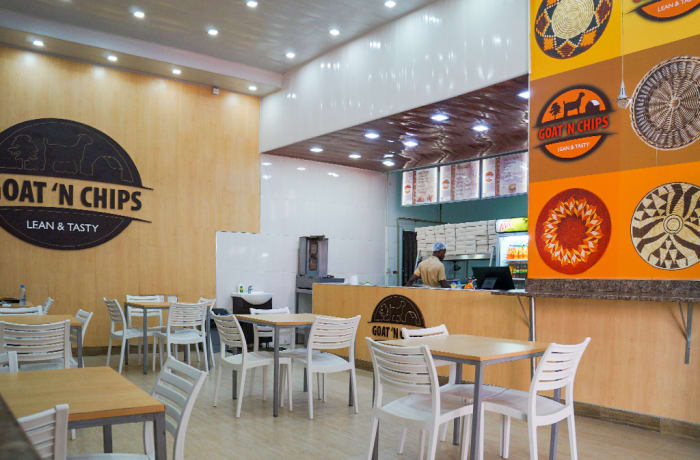 Goat 'n Chips · Casual dining restaurant