Hotel Macha-Leni
The hotel provides excellent accommodation in a modern building with 14 executive en-suite rooms. It offers guests a memorable dining experience in a modern restaurant and a fully stocked bar overlooking a large swimming pool. The Hotel has 2 conferencing facilities which can accommodate between 40-60 people. It is an ideal location for a conference or any corporate function.
Contact details
Hotel Macha-Leni has not updated their information in over a year and these details might be out of date.
Hotel
With 14 executive guest rooms, Hotel Macha-Leni offers exquisite accommodation for business clients or travellers looking for an exclusive getaway in a peaceful environment. The hotel has secure parking space and the premises are monitored by CCTV (except in guest rooms).
Hotel Macha-Leni is conveniently located 15km from the Kenneth Kaunda International Airport on Mosi-o-Tunya Road in the Woodlands residential area approximately 5km east of the central business district of Lusaka. The area has a good and convenient selection of routes for quick and smooth travel between the hotel and nearby diplomatic missions, the central business district, key Government ministries, other public utilities and services and the international airport. Notable properties in the neighbourhood include the Woodlands shopping mall which houses the Pick n Pay supermarket, butcheries, a vegetable market, a chemist, the Oriental food store, a Puma petrol station, a post office and a police station. Other services include:
Complimentary coffee and tea making facilities
Iron and ironing board available on request
Individually controlled air conditioning unit in each room
2 meeting rooms which can accommodate up to 40 people
Wireless internet at various hotspots in the hotel e.g lobby, garden area, meeting rooms and restaurant
Business bureau services – secretarial services, stationery materials,
Photocopying, fax, scanning, laminating and binding
Hotel policies
In an effort to create the most satisfactory experience possible for guests, Hotel Macha-Leni has a strict 'no child policy' (the minimum age of all hotel guests is eighteen years of age). It also has a strict non-smoking policy throughout the whole premises. In addition, with the exception of service animals assisting the disabled, no pets of any kind are allowed in any area of the hotel property.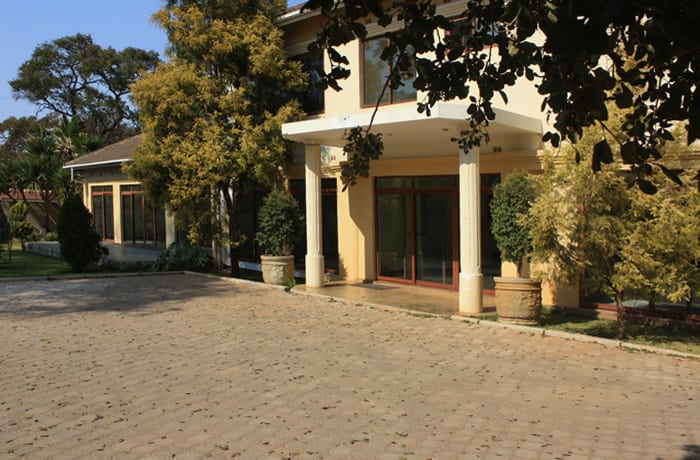 Hotel Macha-Leni · Hotel
Fine dining restaurant
The exotic restaurant provides a range of freshly prepared local and international dishes. Enjoy your meal in a restaurant, which is spacious and airy with glass sliding doors looking out into the pool area. Alternatively you can sit out in the terrace adjacent to the restaurant building.
Meals are prepared by well trained chefs in a modern kitchen and great emphasis is placed on hygiene. The hotel has an outdoor bar facility which is fully stocked.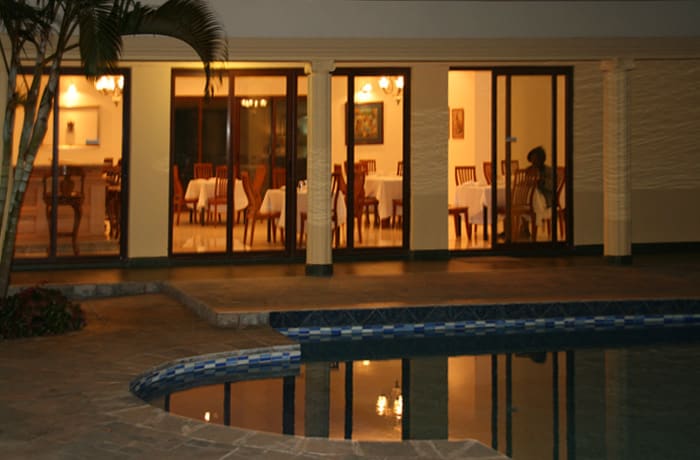 Hotel Macha-Leni · Fine dining restaurant
Conference venue
The hotel offers 2 in-house formal conferencing room facilities with 1 seating up to 40 people and the other 60 people. Conferencing rates include morning and afternoon teas, coffee, snacks, bottled water and a 3 course buffet lunch with soft drinks. Hotel Macha-Leni also offers conference support services.
The conference support services include: stationery, writing pad, pens, white board, flip charts, an LCD data projector and screen, TV and fax/scan machine. Laptops can be provided on request for an additional cost.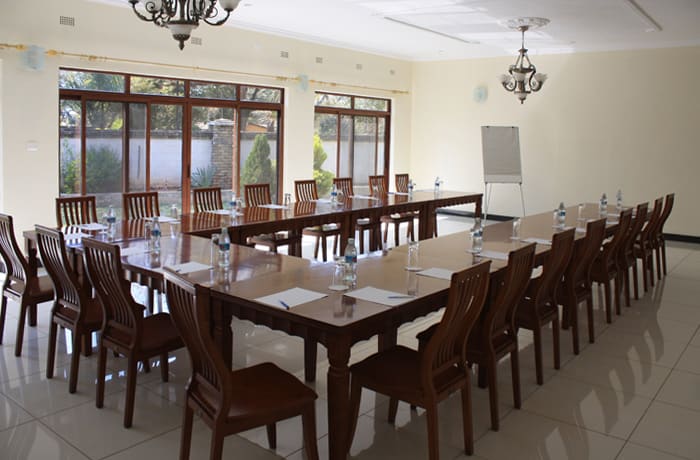 Hotel Macha-Leni · Conference venue