Ilombe Island Lodge
The five luxury, twin bedded tents at Ilombe Island Lodge on the Upper Zambezi River, are raised on wooden decks, each with en-suite bathroom and a breathtaking view of the Zambezi River. The lodge has a spacious communal dining area, lounge, fully stocked bar and wooden deck extending out into the Zambezi River, with wicker sofas and built-in fire place. The lodge also offers an ideal venue for the adventurous angler whether a conventional lure or fly fishing.
Safari lodge
Ilombe Island Lodge offers five twin tents and each can be easily converted into one queen-size double or two singles. The luxury decorated ensuite rooms come with two comfortable pillows, a duvet, a warm blanket for winter and a throw-over sheet for the heat of summer. A free laundry service is available for guests.
Ilombe Island Lodge offers clean rooms and well looked after rooms, Insect repellent and mosquito coils are also provided in each tent. Ilombe Island Lodge boasts of a spacious communal, dining area, lounge and wooden deck with built in fire place that extends out to Zambezi River.
The communal area features a fully stocked bar and wicker sofas to relax on. Ilombe Island Lodge second fireplace it situated on a beautiful white beach alongside the river where guest get the opportunity to witness a true Caprivi Sunset.
Ilombe Island Lodge offers guests a truly African encounter from fishing to game viewing, bird watching and canoeing on the Zambezi with personalised attention given to each and every guest to ensure your days are spent doing the things you really want to do. You may be wakened by the noise of the hippo, the resident elephants or the nocturnal birds. This is a magical place and if fishing or birdwatching are your thing then this is for you.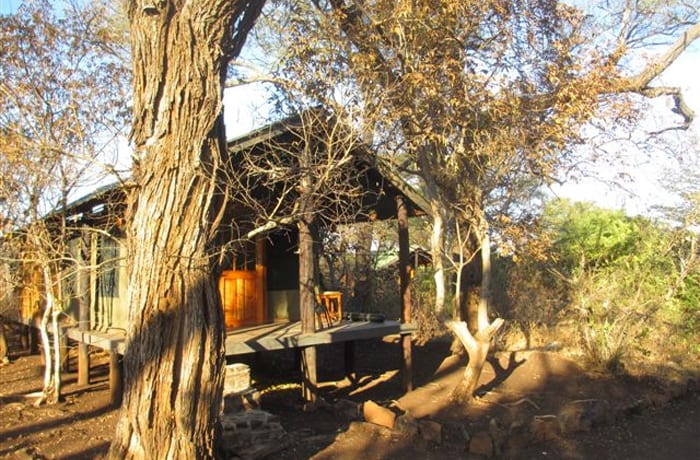 Ilombe Island Lodge · Safari lodge
Fishing
The lesser-visited backwaters can be explored where many of the vegetarian species of bream such as the Greenhead Tilapia and Pink Happies call home. Tiger fish are caught predominantly by fly fishing and artificial lure fishing, during April however, the river is high and discoloured, some bait fishing using circle hooks is allowed.
Sekoma Lodge carries 12 boats in its fleet, which are powered by 60hp motors which are used at Ilombe Lodge. Boats can take a maximum of two fisherman at any one time. Angling on the river is undertaken on fully carpeted, fiberglass bass boats which have been modified with snag-free decks for fly fisherman.
Untouched rapids can be accessed from mid-July through to December by Ark inflatable boats, which is a must for the avid angler as you can be eye-to-eye with magnificent sporting fish.
A variety of fishing methods can be used, with fly-fishing and lure fishing being predominant.
Fish that regularly take artificial:
Nembwe (olive Bream)
Tiger Fish
Thinface Largemouth
Humpback Largemouth
Threespot Tilapia
Redbreast Tilapia
Pink Happy
Sharp Tooth Catfish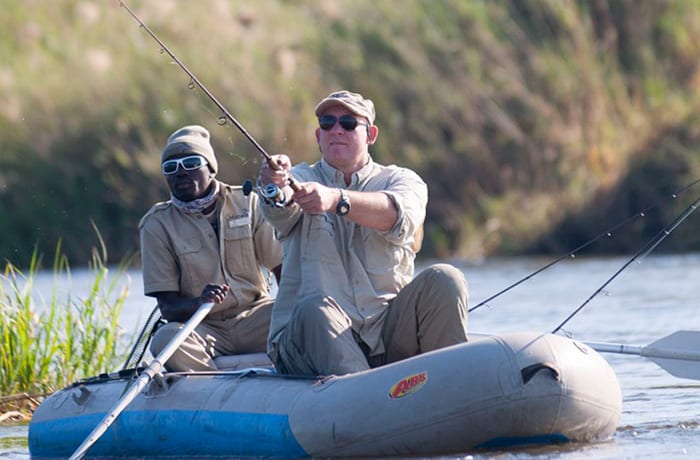 Ilombe Island Lodge · Fishing