Islands of Siankaba
The Islands of Siankaba luxury lodge is five star safari accommodation located on two private islands on the Zambezi River, between Victoria Falls and Chobe National Park. A perfect retreat with uncompromising levels of personal service. Seven secluded chalets offer maximum comfort and privacy with spectacular views of the Zambezi River. Developed as a luxurious five star retreat with outstanding cuisine and uncompromising levels of personal service to exclusively sleep just fourteen guests.
Safari lodge
Each of Siankaba's seven secluded chalets have been uniquely designed to maximize comfort and privacy whilst boasting spectacular views of the Zambezi River. The Islands of Siankaba is the perfect retreat for discerning travelers who wish to witness the wonderful Victoria Falls and enjoy being in an area of exceptional natural beauty.
Islands of Siankaba · Safari lodge
Fine dining restaurant
The choice of dining venues at the lodge are wonderfully varied from an 'al fresco' breakfast on the terrace to an intimate dinner for two in the private forest dining area, your senses will never tire of the abundant natural setting. Dinners in the dining room give guests the chance to meet like-minded travelers.
'Bush dinners' are offered under a glorious canopy of mahogany and milkwood trees on the island's nature trail, all under atmospheric lantern and star light. Adventurous guests who would like a private experience may like to try a picnic on the nature trail or one of the many other islands in the river.
Using locally sourced fresh produce to create mouth-watering dishes from herbs and vegetables from a small community garden market. Constantly evolving menus offer fresh and wholesome ingredients whilst introducing some curious elements; from venison carpaccio or ostrich and pistachio terrine through to amarula ice cream you can be sure to have your taste buds tantalized at every meal.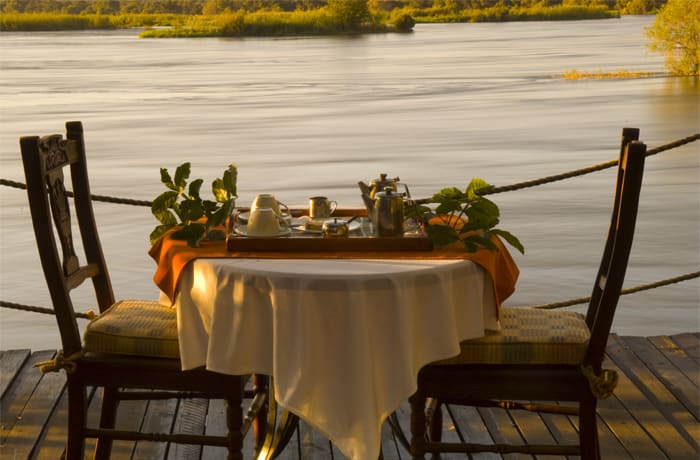 Islands of Siankaba · Fine dining restaurant