KAI Active
KAI Active is a sports, fitness and lifestyle clothing brand. It designed to be fashionable, comfortable and affordable. KAI Active stands for Keep At It, a fitting approach to life for those on their fitness journey. All clothes are made with breathable and lightweight material and are produced with design in mind - stylish mesh panels and colour block effects for women, reflector panels and a choice of neck options for men. Shop KAI Active online, in their Lusaka store or at other outlets across Lusaka. They ship throughout Zambia and worldwide.
Fitness clothing and equipment
KAI Active offers a wide selection of t-shirts, zip tops, vests, tights, jumpers and shorts. Their range is perfect for all kinds of physical activities, from gym workouts and running, to basketball and yoga. They also take custom orders for corporate clients who want to customise items with their own logos or even create new styles.
Fitness gear
Understanding that active training gear has to be comfortable, stylish and performance oriented, KAI Active design, manufacture and distribute quality clothing suitable for in and outside the gym. With a large range, KAI Active is your one-stop-store for you fitness wear.
Visit The KAI Active store at The Village along Leopard's Hill Road in Lusaka. They also sell a selection of clothes at these locations in Lusaka:
GoGo Fitness Health & Wellness Centre - Birdcage Walk, Millennium Village, Behind The Intercontinental Hotel, Long Acres
Lifestyle Gym - East Park Mall
Renew Medica - Mvuvye Road, Kalundu
KAI Active · Fitness clothing and equipment
eShopping
Buy all the fitness gear you need from KAI Active's safe and secure online store wherever you are. You'll be able to find, compare and purchase stylish and affordable fitness apparel with ease. KAI Active ship worldwide from Zambia.
Order the entire KAI Active range from their website! The next time you want to buy a KAI Active piece, check their website first. KAI Active products are from Zambia and Kenya but you can have them delivered anywhere. Their team understands that getting your items quickly is important, so they make every effort to process your order quickly.
Men's active wear
T-shirts
Jogger shorts
Moisture management vests
Women's active wear
Vests
Sports bras / crop tops
T-shirts
Tights
Shorts
KAI Active · eShopping
Specialist clothing
KAI Active will customise their existing range, adding corporate logos and colours, or they can work with teams to design their own fitness ranges. Work with KAI Active to tailor your sportswear to suit the needs of your school teams, corporate teams or sports teams.
KAI Ative have worked with Crossfit Amaka, providing them with branded fitness tops. The team delivered a customised order with their logo on the front and back, and the KAI Active logo moved to the sleeve.
KAI Active can also develop new fitness clothing tailored to the needs of sports teams and schools. Think new designs, new fabric, new colours and bespoke branding to suit your specific sports clothing needs.
Whether you run a dance troop, yoga class or corporate football team, talk to KAI Active to get your gear on brand and right for your activity.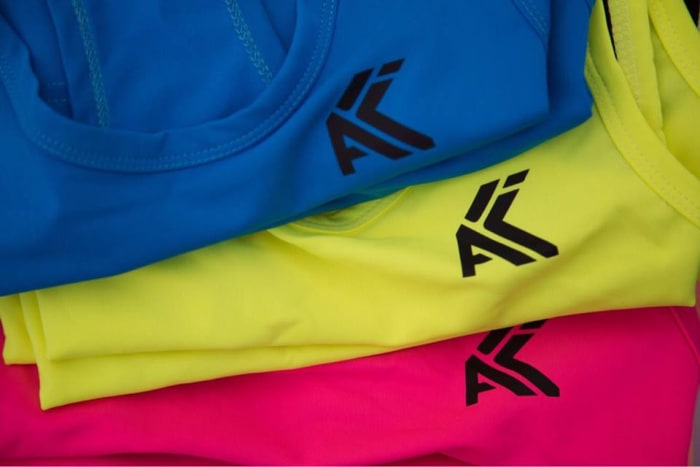 KAI Active · Specialist clothing