Kapishya Hot Springs Lodge
A quiet secluded six chalet lodge on the Estate of Shiwa Ng'andu on the banks of the Mansha River, with a fully stocked bar and restaurant serving high standard international cuisine. The main attraction is the natural, sulphur free Kapishya hot springs. Activities include river floats, game drives, visits to the manor house, horse back riding and bird walks. Self-catering guests may use the main kitchen and dining room. Eating utensils, kitchen apparatus and a kitchen helper are provided for guests.
Contact details
Kapishya Hot Springs Lodge has not updated their information in over a year and these details might be out of date.
Safari lodge
Kapishya Hot Springs Lodge is adjacent to the estate of Shiwa N'gandu, 32km off the Great North Road. Located on the bank of the Mansha River, is a pleasant campsite that has an ablution block consisting of two sets of toilets and hot showers. A basic kitchen area, fire places and shade huts are dotted around the site.
The hot springs are an idyllic spot to spend your time relaxing in the natural, sulphur free water. These natural springs are fed by three cold water springs which permeate down 6-7 kilometres to be super heated and then forced back to the surface dropping 10 degrees with every kilometre, so ending up on the surface at a luxurious 41 degrees centigrade. As your feet sink into the soft white sand, you can forget about the stresses of the outside world and truly relax.
A small lighted pool sits in front of a spacious deck lounge which stands above the well kept garden with its abundance of plant life and secluded seating areas. The river flows and bubbles over a miniature set of rapids. If you look to the right you might get a fleeting glimpse of the monitor lizard who lives in the small kopjie on the
bank.
Mell's restaurant at Kapishya has become recognised as an eatery of note, where international cuisine sits easily next to local fayre. Well known for the high quality of food served, all vegetables are organic and come from Kapishya's own vegetable gardens, which you are welcome to visit, and the meat served is sourced locally.
The social centre of the lodge, this fully stocked bar is open all day and also offers a tasty selection of mouth watering bar snacks. Perfect for meeting at the end of your day.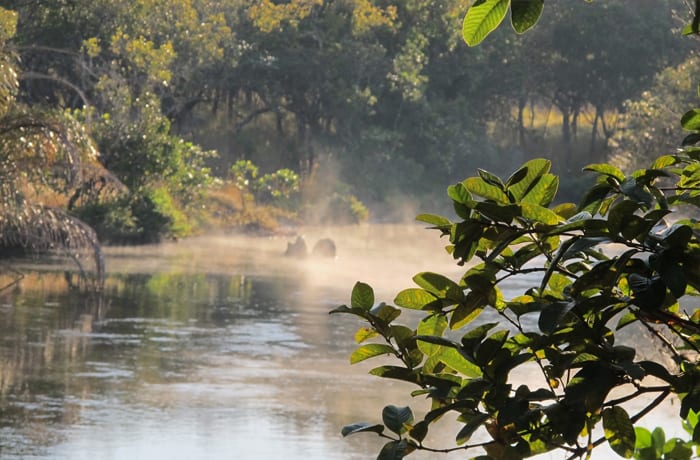 Kapishya Hot Springs Lodge · Safari lodge