Kobs Coach Services
Pioneers of the Zambia-Malawi route, Kobs Coach Services is one of the few bus companies catering for this route into neighbouring Malawi. The company also has a route to the Copperbelt from Chipata. Kobs' high level of customer service includes advance ticketing, mobile ticket payments, a daily business class service from Lusaka to Chipata and en-route safety measures. Customers can also purchase tickets using Airtel Mobile Money. All coaches offer comfortable seating space with reclining chairs.
Contact details
Kobs Coach Services has not updated their information in over a year and these details might be out of date.
Buses and Coaches
Kobs offers a reliable, efficient service with a fleet of seven 69-seater coaches. Pioneers of the Zambia-Malawi bus route, the route stretches from Lusaka city right up to Lilongwe. The company recently extended its route to include Lusaka to Ndola, enabling passengers from Chipata to conveniently make their way to Ndola.
Routes and services
The Lusaka to Malawi (Lilongwe) bus runs daily. Departure times are:
Sunday – 06:00am
Monday – 10:00am
Tuesday – 10:00am
Wednesday – 06:00am
Thursday – 06:00am
Friday – 06:00am
Saturday – 10:00am
Lusaka to Chipata route - daily at 05:00am, 06:00am, 10:00am and 14:00hrs
Chipata to Lusaka route – daily 05:00am 06:00am, 10:00am and 12:00hrs
Rates
From Lusaka to Luangwa – ZMW160
From Lusaka to Nyimba – ZMW165
From Lusaka to Petauke – ZMM175
From Lusaka to Sinda - ZMW180
From Lusaka to Katete – ZMW185
From Lusaka to Chipata – ZMW210
From Lusaka to Muchinji Boarder – ZMW240
From Lusaka to Lilongwe – ZMW320
From Lusaka to Lundazi - ZMW230
Ticket purchase using Airtel Mobile Money
Kobs Coach Services has a new service where customers can purchase tickets using Airtel Mobile Money using the following steps:
Step 1-Dial 778
Step 2-Select pay bills
Step 3-Select others
Step 4-Enter KOBS
Step 5-Enter amount in Kwacha, for example, K5000
Step 6-Enter pin
Step 7-Ref Number (from Post advert)
Kobs Coach Services routes
Kitwe
Ndola
Kapiri Mposhi
Kabwe
Lusaka
Luangwa
Nyimba
Petauke
Sinda
Katete
Chipata
Lilongwe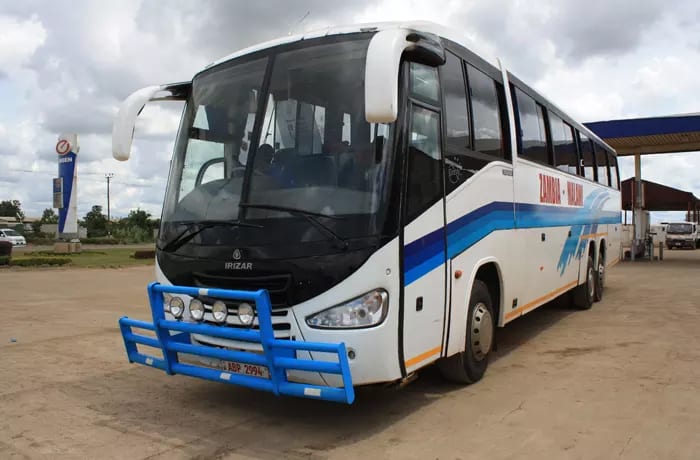 Kobs Coach Services · Buses and Coaches