This company has quickly established itself as one of the leading suppliers of quality steel products in Zambia. Kosa Steel offers integrated and custom-made steel solutions for a wide selection of civil, general engineering and building applications including angle, flat and square bars, plates, sheets, tubings, columns, channels, rods, doors and nails. It also offers 'clear view' type steel fencing going by the brand De-Fence. The company ensures that it provides quality steel products at competitive rates.
Steel
Kosa Steel supplies deformed, reinforcement, angle flat and square bars. Other products include plates, channels, rectangular and round tubings, U beams, columns, flat sheets, welding rods, brick force and conforce wire, cutting discs, roofing sheets, red oxide, flush doors, expanded metal, wire nails and window sections.
Kosa Steel is a highly professional and reliable steel supplier. Over the years, the company has acquired vast experience in supplying a full range of steel products. Kosa Steel ensures that it maintains a huge inventory of products at all times. The company's staff is committed to providing its customers with an excellent service. For its customers' convenience, Kosa Steel sells cut products, allowing you to purchase only what you need.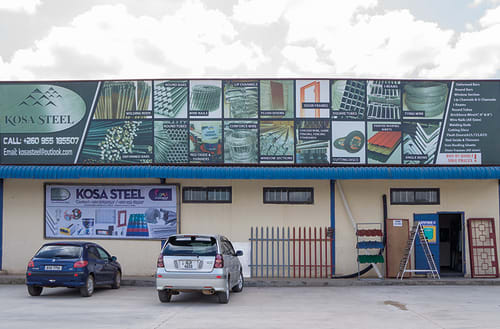 Kosa Steel · Steel
Security systems
Kosa Steel distributes a variety of high and medium security fencing systems for industrial use, including welded and diamond mesh, as well as chain link and palisade fences. The company also supplies both sliding and swing garden gates, and cantilever gates. All products are visually pleasing, tough and heavy duty.
Kosa Steel supplies quality high and medium security mesh fencing. All products offered are cut to specifications. High security mesh fencing systems Living up to its name, this product gives maximum see-through whilst at the same time providing a strong perimeter barrier which is difficult to cut or climb. Specifications
Tough welded mesh panel
Narrow apertures make it difficult to climb or cut
2200 mm high panels are standard and are 100% secured by a locking flange holding all vertical and horizontal wire rods in place.
Medium security mesh fencing This is a strong, see-through fencing system designed to offer a combination of security and aesthetics. Specifications
Tough 4.5mm welded mesh panel
Powder coated and hot dipped galvanised
2050 mm high panels are standard and are bolted to robust posts making this a quick and economical fence.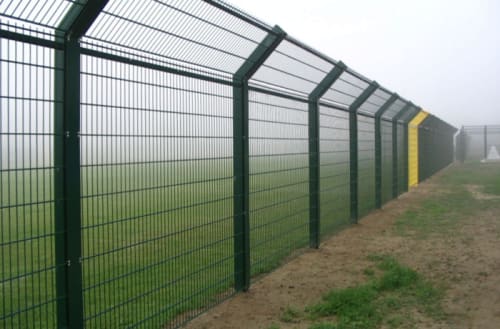 Kosa Steel · Security systems