Lion Camp
A stylish, unique and independent lodge situated in a remote part of South Luangwa National Park with abundant and uncongested game viewing on its doorstep. Lion Camp is distinguished by its friendly staff, personalised service and excellent food. Lion Camp has just nine canvas and thatch chalets accommodating a maximum of 18 guests. Built on raised wooden platforms, they are linked to each other and the main area by a raised wooden boardwalk.
Safari camp
Relax and unwind during your safari holiday. Built on raised wooden platforms, they are linked to each other and the main area by a raised wooden boardwalk. Each chalet has either a four poster king-size double bed or twin beds, and a walk-in mosquito net. They are all ensuite with a shower and toilet, and have private decks.
Located 40km upstream from the main Mfuwe gate, and on the banks of an oxbow lagoon or 'wafwa,' which retains a small amount of water all year, the lodge looks out onto open grassland. By day the plain is frequented by grazing mammals, and by night it becomes a hunting ground for lions.
In the absence of fences, game moves freely through the lodge grounds. Elephant, hippo, bushbuck and other antelope are regularly seen within the confines of the camp and there are healthy populations of lion, leopard, buffalo and giraffe in the immediate area.
An infinity swimming pool, lower deck with sun loungers, central bar and fireplace are located in the main area, along with a library and small shop. Solar power is available in each chalet.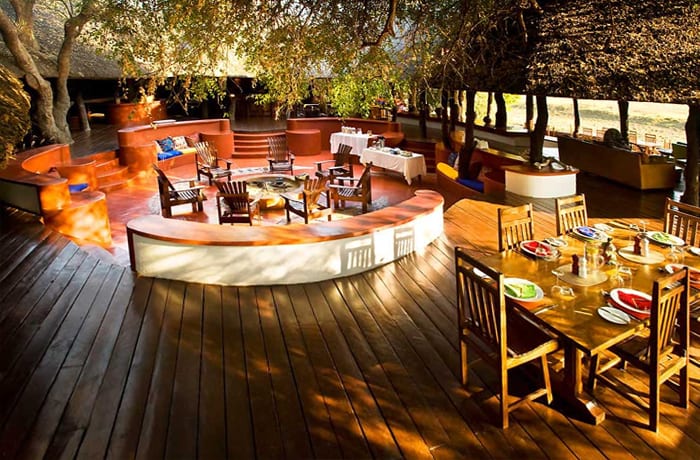 Lion Camp · Safari camp
Safari
All Lion Camp safari activities are led by qualified guides who will educate and enlighten you in the secrets of the park. Game drives are conducted in open Land Rovers. Walking safaris are accompanied by an experienced and armed escort scout and are a very different option, they bring you in touch with the wilderness.
All of Lion Camp guides have passed a rigorous Luangwa Guides examination which includes a requirement for an in depth familiarity with all of the mammals, birds and vegetation to be found in South Luangwa. Lion Camp recognise that everyone has different interests guides are able help your specific areas of interest and they will do their utmost to accommodate you.
Walking Safaris tend to focus more on the minutiae of the park and the eco-system. It is a truly unforgettable experience striding out in country where you are on the same footing as a lion or elephant.
The best time for game viewing is in the early morning and late afternoon when animals are their most active. We aim to be as flexible as possible so you can decide whether you feel like walking or driving on a day by day basis.
Most transfers between camps are conducted between breakfast and brunch, so you will arrive in time to settle in, relax and then proceed on an afternoon activity.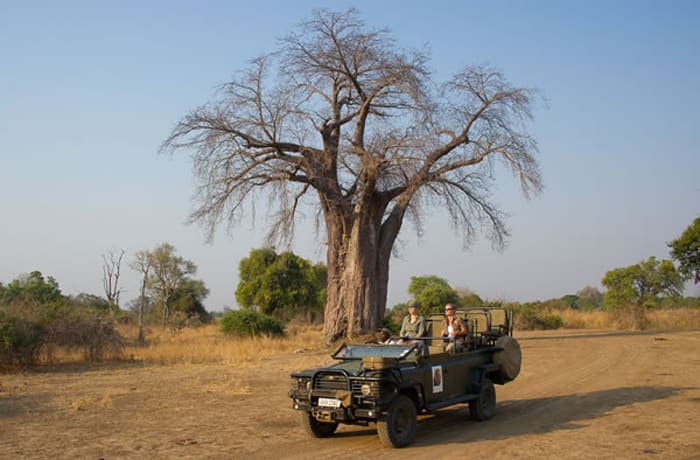 Lion Camp · Safari