Livingstone Holiday Home
Livingstone Holiday Home provides interesting two block design accommodations that are great for groups and individuals. The rooms are self-contained with options of a kitchen, dining room, lounge and reception. All bedrooms have DStv, coffee making facilities and treated nets. Top hygiene standards, excellent security, children welcome. Local activities can be booked. Good discounts for students, groups of 10+ and stays of over 10 days. A convenient getaway to the tourist town of Livingstone.
Guest house
Livingstone Holiday Home provides excellent accommodation in the business centre of Livingstone and organises tour activities for guests. The holiday home provides a home for business convenience and a getaway to this tourist town's attractions. All activities can be booked through the guest house.
Livingstone Holiday Home provides rooms that air conditioned, well-furnished bathrooms with towels and toilet soaps provided on a daily basis, the floors have ceramic tiles and walls in bathrooms. It also provides tea making facilities in the kitchen with DStv in all the rooms and mini bar fridges in some rooms. Four double rooms and six twin rooms, 18 beds, doubles, three quarters or singles. Air conditioners or ceiling and stand fans. Baths with showersor showers only. Towels, toilet soaps provided daily. Ceramic tiled floors and walls in bath rooms. Coffee making facilities. Digital satelite TV in all rooms. Mini bar fridges in some rooms. Committee room with sitting capacity for 12 people. Restaurants Livingstone Holiday provides restaurant services with offering full menu covering all most types of dishes. Restaurant with sitting capacity for 14 people offering full menu covering all types of dishes. Tour activities Apart from providing budget accommodation to suit your good stay in a tourist town of Livingstone. The guest house can plan a wide range activities which include safari drives, Victoria Falls, village and museum tours. jet boating, abseiling, bunji jumping and many more.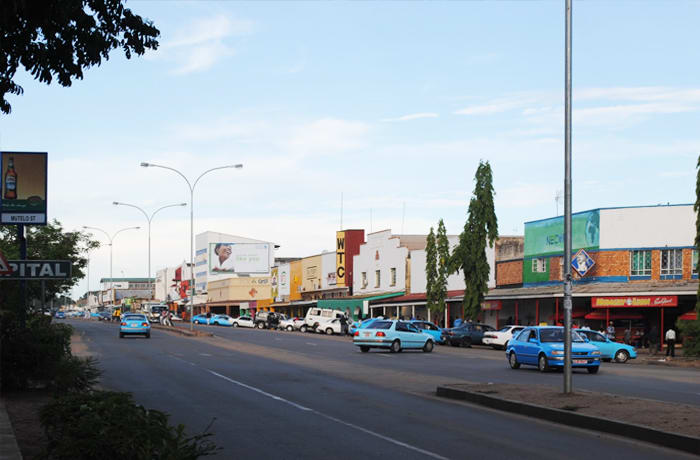 Livingstone Holiday Home · Guest house