Livingstone Rhino Walking Safaris
Experience breathtaking encounters with the endangered white rhino whilst walking in the untamed Zambian bush of Livingstone's Mosi-oa-Tunya National Park. You'll also have a chance to see hippos, impalas, elephants, giraffes and a host of other rare African animals and birds. Livingstone Walking Safaris takes you on a unique personal tour of the Mosi-oa-Tunya National Park in the Zambian bush led by experienced and knowledgeable guides. They can also tailor any tour to your own special requirements.
Safari
Livingstone Rhino Walking Safaris takes you on a personal tour of the Mosi-oa-Tunya National Park in the African bush. During the two-and-a-half hour walk with a professional guide and armed park scout you'll learn how to read animal tracks, see the tell-tale signs of elephant and hippo activity and understand just how important natural habitat is.
The walking safari experience starts early and is generally split into two parts-firstly in the main section of the Mosi-oa-Tunya National Park where there is the highest concentration of large game, such as elephant, buffalo, giraffe, zebra, wildebeest, impala, bush buck, water buck and many smaller animals such as warthog, monitor lizards, baboons and vervet monkeys. After a short break of refreshments guests will make a short transfer by vehicle to the area the White Rhino inhabit and track them to where they are feeding or resting.
Livingstone Rhino Walking Safaris picks up their guests from their lodge or hotel in their 4x4 observation vehicles, while taking the guided walking tour guests will be able to have photographs really close to rare white rhinos. The tour ends with a shady rest with home made snacks and refreshments and then you'll be dropped off back at your accommodation.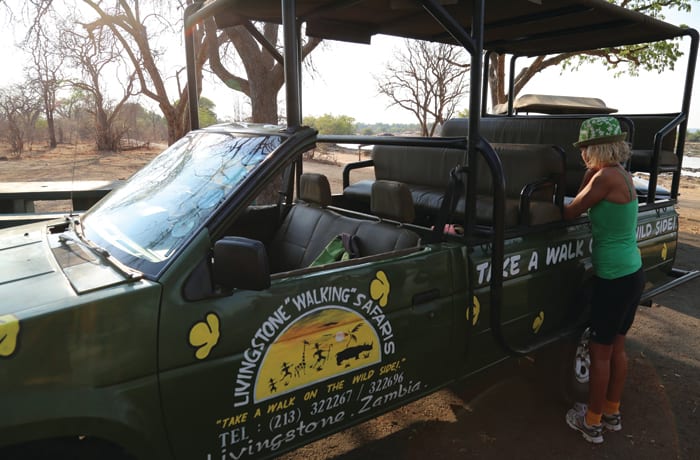 Livingstone Rhino Walking Safaris · Safari
Animal encounter
Experience the rare opportunity of being able to interact, take pictures and observe the endangered white rhino with Livingstone Rhino Walking Safaris. Before the trip their knowledgeable guides will give you a briefing on, safety, what to expect and how to have a memorable encounter.
The rhino's horn consists of tightly compressed hair-like fibres and is attached to the skin, not the skull. Rhinos are fairly placid animals with poor sight but an acute sense of smell and hearing. They are fast-food grazers par excellence, capable of taking more than one mouthful per second when the grass is fresh and green. They tend to feed in the early morning and late afternoon and either rest in shade or wallow in shallow pools during the heat of the day. The mud wallows that they are known for is an effective tick-trapping technique - the parasites get caught in the mud, and when this dries and falls off the animals' skins, so do the insects.
Rhinos also have a close relationship with ox-pecker birds, which help remove the ticks and also sound the alarm when there is impending danger. Although they look cumbersome, rhinos can charge at up to 45km/h. White rhinos are, of course, not white at all but are so-called because of the misinterpretation of the Dutch word for "wide", which was used to describe the lip of the grazing variety of rhino.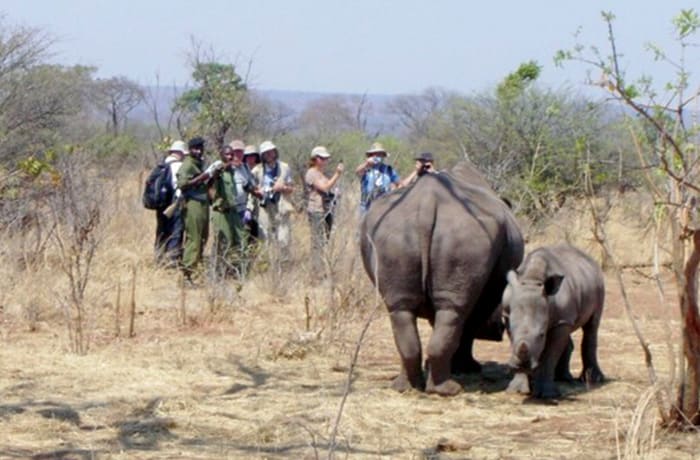 Livingstone Rhino Walking Safaris · Animal encounter
Tours
Livingstone Rhino Walking Safaris is able to tailor any tour including a meal on the banks of Zambezi, exciting activities, local tours and packages to suit your budget and needs. Their team of experienced professionals are available to offer the best in terms of quality and service.
Livingstone Rhino Walking Safaris offers an extensive range of tour packages to various destinations in Zambia and Africa. Their rates are very competitive as they have some of the best negotiated rates with lodges and hotels in Zambia and beyond. Livingstone Rhino Walking Safaris showcases Zambia's beauty to both locals and visitors.
Livingstone Rhino Walking Safaris · Tours