Lusaka Apex Medical University (LAMU)
Established in 2008, Lusaka Apex Medical University (LAMU) is a centre of excellence for education, research and specialised clinical care. It offers degree programmes in medicine, pharmacy, nursing and health sciences. The university offers distance learning degree programmes for working adults. LAMU was set up to provide an alternative choice for health and medical education for men and women who want to become doctors, medical specialists and other health professionals.
University
The Lusaka Apex Medical University contributes to the global supply of highly qualified health professionals with emphasis on Zambia and the region. The university offers a range of programmes for both working and non working adults that include diploma, doctoral, academic and masters in medicine.
The lecturers at the university are highly qualified and use modern teaching equipment and methods. The university has a fully stocked library and spacious classrooms. Lusaka Apex Medical University has state-of-the art facilities that allow students to enjoy an education that goes beyond the classroom. Every year the university invests in the latest technology available to provide the best clinical outcomes possible. Programmes offered Diploma programmes
Nursing
Midwifery
Public health
Medical laboratory technology
Anaesthesia
Pharmacy technology
Environmental health
Radiography
Clinical Medical Sciences
Dental technology
Physiotherapy
Oral Health therapy
Medical licentiate
Theatre nursing
Doctorial programmes
Doctor of philosophy (PhD)
Doctor of public health (DrPH)
Doctor of medicine (MD)
Doctor of dental surgery (MDS)
Doctor of medical education
Doctor of nursing
Academic programmes
Medical degree
Pharmacy degree
Nursing degree
Health sciences degree
Postgraduate degree
Masters in dedicine
Masters in medicine programmes
Surgery
Internal medicine
Paediatrics
Obstetrics and gynaecology
Orthopaedic surgery
Paediatric surgery
Radiology
Neurosurgery
Ear, nose and throat
Dental surgery (maxillo facial)
Dermatology
Ophthalmology
Plastic surgery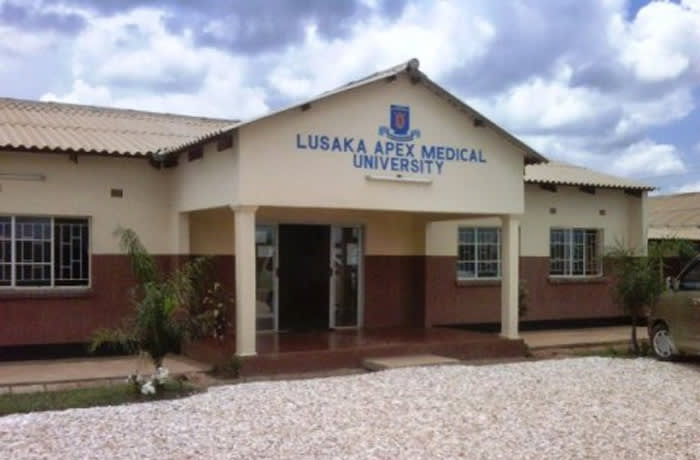 Lusaka Apex Medical University (LAMU) · University