Macspeedy's Motorbike Messengers Ltd
Macspeedy's is a local courier providing a quality delivery service through a GPS-monitored network of bikers, for documents and parcels - invoices, quotations, payments, magazines and more. Macspeedy's offers a domestic express freighting service to move goods quickly and efficiently between key points such as Lusaka and Ndola, Kitwe or Solwezi, or even more remote places. The company can also procure from South Africa, and bring in international shipments, delivering them to your door.
Contact details
Macspeedy's Motorbike Messengers Ltd has not updated their information in over a year and these details might be out of date.
Postal and Courier
With operations in Lusaka and on the Copperbelt, Macspeedy's delivers important business documents and packages that need to be sent or received quickly within a local area. With their application downloaded on your computer, you can schedule a collection or delivery by ordering online.
Macspeedy's provides corporate discounts to organisations that average at least 20 deliveries per month and contract with the company for the service. With a variety of flat-rate monthly packages, Macspeedy's can save you time and money by handling all your document, errands and parcel delivery needs. The team of staff will even queue for you for something that needs to be collected. Where your delivery requires physical proof of delivery, they will deliver your document and get the acknowledgement back to you. Convenience The company runs all your errands allowing you to get on with your business. Macspeedy's will come to you, and make door-to-door deliveries, ensuring that you never have to pick up or drop off anything. Speed Macspeedy's understand the true meaning of 'now-now'. Services include 'three hour express' and 'one hour rocket'! Company savings Macspeedy's saves its business clients 30-50% over other methods of delivery such as using a taxi, employing a driver, or sending important administrative staff all over town. Professionalism Macspeedy's riders are trained to handle documents and parcels sensitively and confidentially. They record the date and time of every delivery, and capture the signature of the recipient electronically. Unique features include
Convenient, simple to use quick-entry ordering application from your phone or PC that allows you to track your orders from pick up to completion
Real-time electronic POD (proof of delivery) notifications sent to you as soon as the rider completes your order. This is free with all orders, providing you with the signature and name of the recipient
A searchable history of all past orders on your PC, so you can always check the details of any previous delivery to confirm when and to whom it was delivered
Time guarantees for all orders of 1, 3 or 24 hours, depending on the service level you choose
Competitive and affordable rates that save your business money over the traditional means of using drivers, taxis, or office orderlies to carry out delivery tasks
MacSpeedy's serves a very wide range of clients that is growing every month:
Legal practitioners and advocates
Truck parts suppliers
Manufacturers and service providers
Financial institutions
Insurance companies
Current clients of MacSpeedy's include:
Action Auto Ltd
Bank of Zambia
Bulletin and Record
Chikumbuso Project
Corpus Legal Practitioners
First Capital Bank
Gareth Bentley Photography
Jackal and Hyde
Liebherr
Moringa
Saro Agro
Sharpe and Howard Legal Practitioners
The Start Foundation
Toyota Zambia
ZEGA Ltd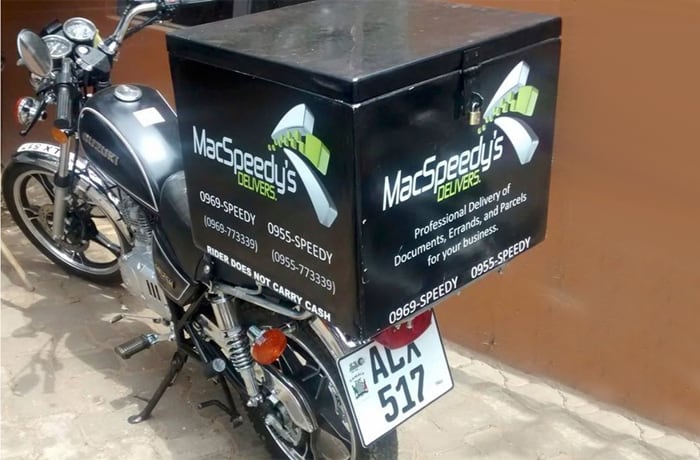 Macspeedy's Motorbike Messengers Ltd · Postal and Courier