Madinawala Engineering
Established in 2007, Madinawala Engineering is a large modern precision engineering firm committed to providing a highly professional service to its clients, with strict adherence to customers' specifications, fast turnaround of jobs and a special emergency service. Madinawala are diesel injector pump specialists, with modern state-of-the-art machinery that ensures peak performance. The company also reconditions vehicle parts – axles, differentials, gears, bushes, wheel drums, propeller shafts and bearings.
Contact details
Madinawala Engineering has not updated their information in over a year and these details might be out of date.
Engineering services
This company is a specialist in turning, machining, welding, general metal fabrication, sheet metal works and a whole host of other engineering services. Madinawala Engineering has an experienced team of workers led by a highly qualified technical engineer. The company is situated off the Kafue Road in Lusaka, behind Shoprite.
Madinawala Engineering repairs industrial and mining machinery, refits bearings and makes studs, nuts and bolts, and bushes. The company also repairs hammer mills, conveyor belts and crushers. Its services to plastic factories includes mould repair; manufacture of rollers, cylinders and pulleys; pin making; and die making. The company has the infrastructure needed to carry out its work to a high standard. It has the capacity to machine workpieces of up to 6 metres in length and with a swing of over 1100mm. It has hydraulic presses with a capacity of up to 100 tonnes, and does both M.I.G. and T.I.G. welding. In addition Madinawala Engineering has a vehicle parts reconditioning shop. It reconditions axles, differentials, gears, bushes, wheel drums, propeller shafts and bearings. Over the years Madinawala Engineering has built up a good client base, including Consolidated Farming (Kafue Sugar), Finance Bank, Lions Group Quarries, Oriental quarries, Dolomite Aggregate, Mazhandu Family Bus Services, Investrust Bank and Zambeef. Madinawala Engineering information
Fully equipped machine shop
Modern heavy duty machines
Qualified staff and managers
Prompt service delivery
Works are accurate (according to specification)
Capacity to machine work pieces of up to 6 metres in length, with a swing of over 1100mm
Hydraulic presses have a capacity of 100 tonnes
Madinawala Engineering services
Both M.I.G. and T.I.G. welding
Turning, machining, welding and fabrication
Repair of industrial and mining machinery
Repair of hammer mills, conveyor belts and crushers
Plastic mould repair
Manufacture of rollers, cylinders and pulleys
Pin making and die making
Madinawala Engineering · Engineering services
Commercial vehicle maintenance
This company carries out a range of services for diesel engines. Specifically this includes diesel injector pump services and overhaul. Madinawala Engineering assembles and disassembles injector pumps for the purpose of cleaning, parts inspection, testing and calibration.
All aspects of vehicle parts repair and service are catered for – trailer repair, axle and hub repair, propeller shaft balancing and repair, any type of gear manufacture, brake drum skimming, clutch plate repair and replacement, replacement of studs, nuts and bolts and U-bolts, spline cutting, refit or removal of DPR arm and bearings, and much more. Madinawala also specialises in gears and sprocket cutting. With an experienced team led by a highly qualified technical engineer, this company believes in having the best workforce and the best equipment to ensure it can provide the best to its clients. Its customers include Sable Transport, Kapiri Transport and TAP Building Products. Madinawala Engineering are also general engineers. Fuel injection specialists Madinawala Engineering expanded its operations in late 2008 to include a state-of-the-art fuel injector pump service that includes overhaul, repair and calibration. All types of vehicle pumps are serviced including Scania, Volvo, DAF, Nissan, Hino, Toyota and Isuzu. Pumps with up to 12 cylinders, and both in-line and rotary models, can all be serviced – such as A, B, P, Z, VE and DPA models. Common rail piezoelectric and electro-magnetic injection pumps can also be tested and overhauled.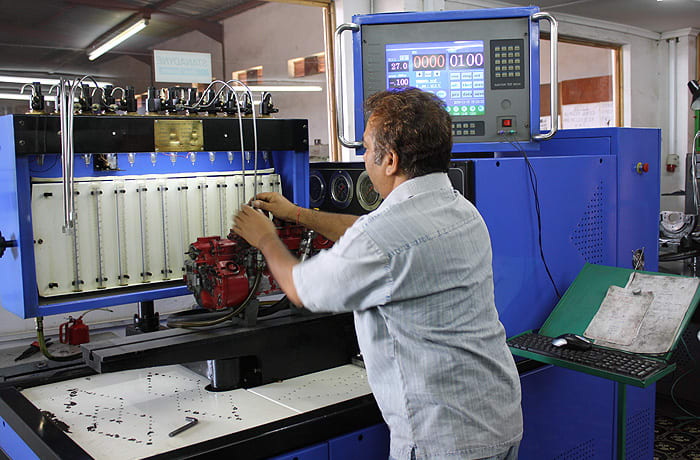 Madinawala Engineering · Commercial vehicle maintenance