Marula Lodge
Located next to the main entrance of the South Luangwa National Park, Marula Lodge has a choice of comfortable and affordable accommodation including en-suite chalets, furnished riverside tents and shared backpacker style rooms. This lodge provides the perfect destination for your Zambian safari getaway with a range of activities and expertly arranged packages. Experience authentic wildlife, enjoy excellent game viewing or guided safari walks. Marula Lodge also has a restaurant, bar and swimming pool.
Safari lodge
Marula Lodge offers a variety of affordable accommodation options to choose from. The lodge offers comfortable furnished and luxurious rooms comprising of chalets and a dorm for backpackers. The dome tents have access to the public bathrooms as they are not en-suite, whereas the chalets are all en-suite.
Relax in your chalet, jump into the pool for a refreshing swim or, indulge yourself whilst sitting in the shade of the magnificent trees at the river's edge. Marula Lodge provide guests high speed wireless internet access. The mobile phone reception is good throughout the South Luangwa area. All rooms are equipped with mosquito nets, lamps, clean linen and beddings. The chalets are equipped with double or twin beds with high quality mattresses and beddings (draped with mosquito nets).
Restaurant, bar and lounge
At the hub of Marula Lodge includes the lounge, dining room and bar. The experienced chefs cater to all tastes, whether you choose from their daily menu or the fantastic full-board fare. The chefs use fresh local produce and plenty of imagination, satisfying all vegetarian and halaal requirements.
Marula lodge reviews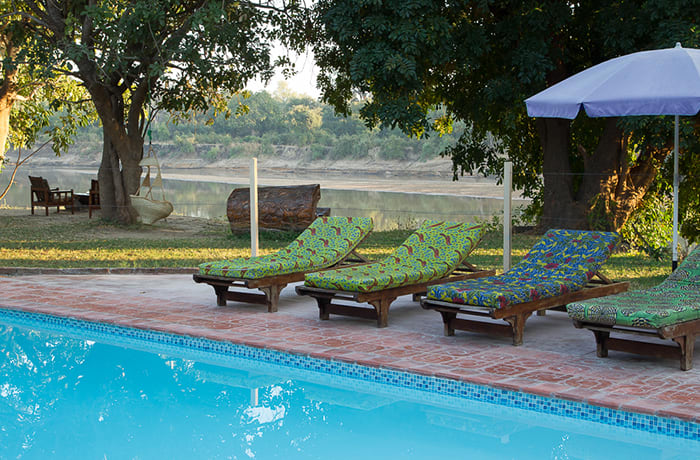 Marula Lodge · Safari lodge
Safari
Marula Lodge offers a variety of activities including game viewing, walking safaris, birding safaris and game drives (morning and night drives). You also have an option of going on a village tour to have an idea of local customs and culture. The expert safari guides have years of experience to ensure every adventure is memorable.
Marula Lodge has a team of well qualified tour guides that offer professional services to ensure your holiday is one to remember. A morning game drive will usually last from 3 to 4 hours where you will see close up the amazing animal and bird life that South Luangwa National Park has to offer. After a morning drive, the rest of the day is yours to do as you wish. Have a swim, sit in the shade of a chitenge or drop off to sleep in a hammock. A night drive is not to be missed. The team of expert guides will get you back into the park at around 4PM.
The character of the park begins to change as evening approaches and you will feel the nervous tension of the smaller Puku, Zebra and other potential prey. With such an abundance of animals, it is possible that you will be at the right place at the right time to witness a hunt, chase and perhaps even a deadly strike. Such scenes will leave you breathless yet exhilarated and amazed at the brutal honesty of nature.
Early morning walking safaris with trained guides and a professional armed scout in the park can also be arranged from June to October. (Not suitable for children under 12 years). Marula lodge reviews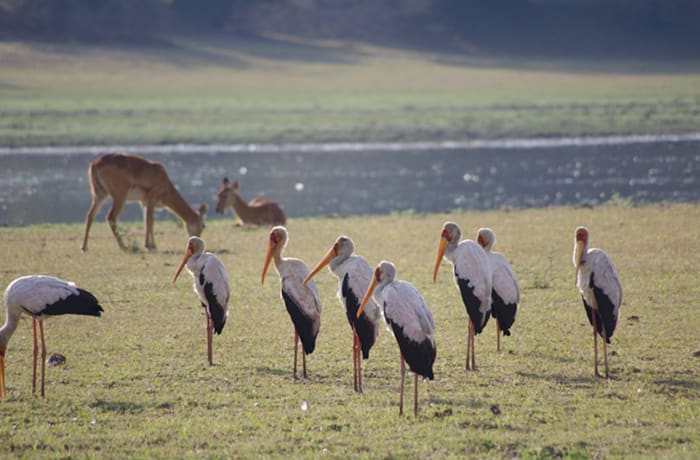 Marula Lodge · Safari
Campsites
The riverside tents at Marula Lodge are high quality, clean, comfortable and placed in spectacular natural scenery. The campsites provide guests an option of the full board package, offering all meals, tea, coffee and juice, from dinner on the night of arrival, to breakfast on the day of departure, plus two game drives on each full day.
Marula Lodge provides a great camping spot for groups of campers, both large and small are welcome. The tent accommodation rates range from $15 per person per night, $170 per person for 2 nights. If you choose accommodation only, you can order your meals from their small restaurant menu, the experienced chefs cater to all tastes, or you can cook for yourself in the self-catering kitchen.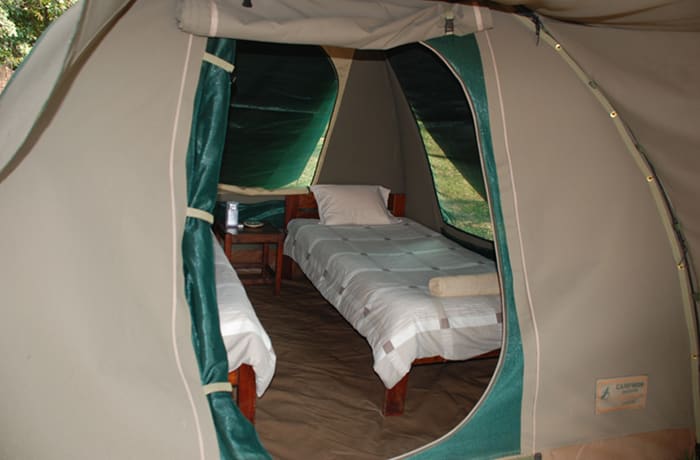 Marula Lodge · Campsites