Mayukuyuku Bush Camp
On the banks of the Kafue River in the Kafue National Park stands Mayukuyuku Bush Camp, an ethical and stunningly beautiful safari experience. This is a picturesque safari camp that is open all year round and situated in one of the largest game parks in the world, known for its diverse wildlife. The bush camp faces a small island making excellent wildlife viewing. There is a beautiful shaded campsite that is open all year round in Kafue National Park, Zambia. Each pitch has a Kafue River view and you may stay as self catering guests or enjoy meals prepared for you on site, perfect for those who take their safari activities seriously.
Safari camp
With 4 luxury en-suite permanent safari tents, Mayukuyuku Bush Camp gives you an intimate relationship with nature. Each safari tent overlooks the Kafue River with its own verandah, hammock, en-suite bathroom, open sky hot showers and flush toilets. The camp offers a wide range of activities.
'Mayukuyuku' means the water hitting the rocks. Downstream from the camp there are a number of rapids from which the camp takes its name.
Located just eight kilometres from the tar road, east of the Kafue Hook Bridge, Mayukuyuku Camp is well positioned for accessibility.
Dining at Mayukuyuku
Only fresh produce is used at Mayukuyuku and there is an emphasis on fruit, vegetables and Zambian sourced meat and fish. The food is served in an open sided dining area which also has a small lounge.
Activities at Mayukuyuku
Early morning and sun downer game drives
Walking safaris
River safaris by boat
Bird watching
Fishing
Ethical principles
Mayukuyuku Camp employs people from local communities and takes full responsibility for the environment around the camp, as well as supporting Kafue National Park. Employees are encouraged to develop themselves through international standard training. Mayukuyuku Camp is owned by Kafue Camps and Safaris, a majority Zambian owned company. Thus much of the revenue is retained in Zambia.Rates and information
Open all year round
$15 (camping), $250 (full board), $350 (all inclusive package) per person per night
Transfers $250 one way or $450 round trip
Children under 12 pay 50%
Package prices include park fees and activities
Regular offers available
Wildlife you can see here
African finfoot
Banded mongoose
Buffalo
Bush buck
Bush pig
Caracal
Cheetah
Civet
Common duiker
Crocodile
Defassa waterbuck
Elephants
Greater kudu
Ground squirrel
Hippo
Honey badgers
Impala
Leopard
Lions
Marabou stork
Mellors mongoose
Pels fishing owl
Puku
Rock hyrax
Reedbuck
Sharpes grysbok
Side stripped jackal
Spotted genet
White tailed mongoose
Wild cat
Wild dog
Zebra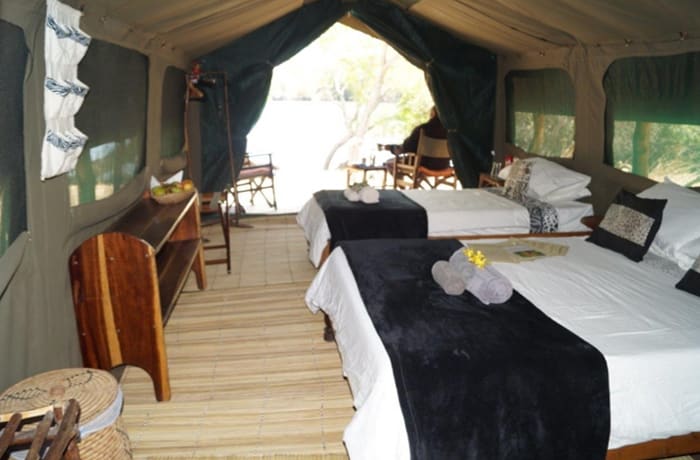 Mayukuyuku Bush Camp · Safari camp
Campsites
Mayukuyuku Camp is perfectly placed for either motoring visitors or backpackers. It breaks the journey if you are travelling west to the Barotse Plains, Liuwa National Park, or the Kuomboka Ceremony near Mongu. This camp is unique in that it is accessible by two wheel drive vehicles.
Campsite and facilities
The campsite is opposite a small, dry riverbed – a great place to view wildlife. There are three pitches and the campsite can take about 25 guests in total. Nearby are shared bathrooms which are open to the stars. Firewood is supplied free of charge and there is a staff member on hand for any other assistance you might need. Lightweight tents are available for hire on request, and there are battery charging facilities.
Activities
Campers can participate in activities like:
Early morning and sun downer game drives
Walking safaris
River safaris by boat
Bird watching
Fishing
Directions from Lusaka
From Lumumba Road in Lusaka take the Great West Road towards Mumbwa
Travel 250 kilometres from Lusaka
Drive past the turnoff for Mumbwa and on through the park gates at Nalusanga
After the second set of speed bumps you will see the sign for Mayukuyuku Camp
Turn right onto a dirt road and continue until you see another sign to Mayukuyuku Camp on your right
GPS co- ordinates for the turning off the tarmac road are 14º 57´.4 S and 26º 05´.3 E
Directions from the west
Cross the Kafue Hook Bridge going from West to East and continue for 14 kilometres after the bridge
Turn left onto a dirt road by the Mayukuyuku Camp sign
Continue for a further 2 kilometres until you reach another sign to Mayukuyuku Camp
The GPS co-ordinates for the turn off the main road are 14º 57´.2 S and 26º 02´.4 E
Mayukuyuku Bush Camp · Campsites