Mazhandu Family Bus Services Ltd
Established in 1983, Mazhandu Family Bus Services gives adventure travellers, businessmen and the public at large a superior, reliable and luxury coach service from Lusaka to Livingstone and the Copperbelt. The company also has a route to Kazangula, and one to Katimamulilo. Key standards that Mazhandu adheres to are the importance of time management, quality service, high levels of safety and dependable travel packages.
Buses and Coaches
Mazhandu Family Bus Services offers luxury coach travel from Lusaka, Zambia's capital, to the Copperbelt as well as Livingstone, Kazangula and Katimamulilo. Buses have first-aid kits, fire extinguishers, television and music systems. In addition, super luxury coaches have plasma television and reclining seats – great for long distance travel comfort.
All buses are fitted with seatbelts. Their fleet consists of 40 buses which include 23 luxury coaches and 17 semi luxury coaches. Coaches are serviced and maintained at the company's own workshop by in-house professional mechanics. In case of a breakdown, a back-up bus is despatched immediately. The vehicles meet European standards with modern specifications that rank them favorably with the best commuter buses in the world. Schedules The carrier time-table is from 6:00 to 19:30 from Lusaka to Livingstone, and from Livingstone to Lusaka, with nine journeys per day each way. There is also a daily service from Lusaka to Mongu at 13:30. Mazhandu has introduced a Lusaka to Johannesburg route twice a week. The bus departs from Lusaka on Sundays and Tuesdays at 09:00hrs. The return or departure from Johannesburg is every Wednesday and Saturday. As part of their growth strategy, Mazhandu is planning to open up cross border routes to Botswana and Zimbabwe in the near future. Mazhandu also hire out coaches for corporate bookings and group travel. Pre-booking Pre-booking is one of the value-added services that make Mazhandu a leader in the coach travel industry in Zambia. Customers can pre-book one day in advance confirming the time and date of travel. Loyalty program Mazhandu also runs a loyalty program to reward their regular passengers. With every ten tickets a passenger accumulates, they qualify for one complimentary ticket – remember to keep all your tickets in order to claim your free ride!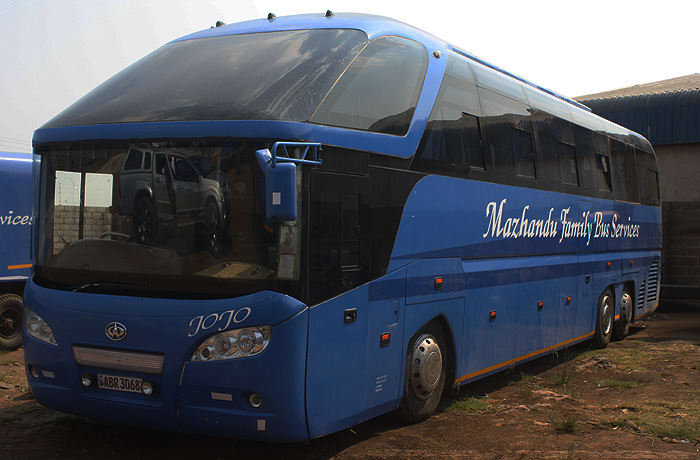 Mazhandu Family Bus Services Ltd · Buses and Coaches