Monasha World
Located just outside Lusaka, Monasha World offers a beautiful function venue designed to make your party dreams a reality! With a marquee for added flexibility, this venue is perfect for a whole range of memorable events such as kitchen parties, weddings and corporate functions. Monasha provides tables and chairs with linen for that extra touch of elegance. And a myriad of colours drawn from the well-maintained hedges, grass, trees, flowers and swimming pool gives a wonderful background for pictures.
Function venue
Monasha World offers an ideal destination for all types of events - kitchen parties, wedding receptions, other family celebrations and corporate events. Monasha World adds that special personal touch that comes from a family run business. Perfect for those who love outdoor themes for their special day.
Monasha World can accommodate 200 guests in the main marquee and an additional 75 guests in each of the three new pagoda marquees which can be joined to make the total seating capacity approximately 425 guests. Bathroom facilities are available for male and female guests. Monasha World provides a secure setup that enables organisers to regulate the number of guests. If the weather is poor, the Monasha marquees can be quickly erected to ensure the event can still take off without a hitch. The professional Monasha World team is flexible and responsive to match with your budget and style. Additional facilities available for events
Seating and tables: Monasha World provides steel back chairs with padded seats and backs, chair covers and beautiful all white tiffany chairs and cushions for that extra touch of elegance. It also offers rectangular tables with table linen to match chair covers, and round tables with table linen to match.
Marquee roof linings and heating: Monasha World can provide marquees with coloured roof lining, and heaters for outdoor events held in the cold season.
Various décor accessories: Monasha World has beautiful aisle stands, crystal and glass centre pieces, rose balls, mirrors, candelabras, fairy lights, backdrop dressing, and table runners and tie backs in several different colors. It provides a memorable décor service to all its clients.
Hire of event furniture Stunning white and gold wedding sofas, as well as tiffany chairs, can be hired out separately. Make your event extra special with this beautiful furniture.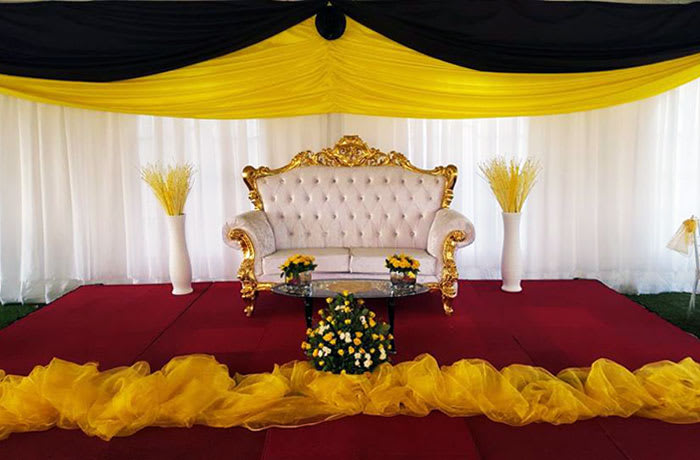 Monasha World · Function venue
Weddings
Monasha World provides the perfect location to host an outdoor wedding reception accommodating up to 250 guests. They provide the tables and chairs, table cloths, and all the arrangements regarding music and catering. Their expert team of planners are available to discuss your ideas and personalisation in the finest detail.
Monasha World offers
A dedicated team of planners to discuss your ideas, colour scheme, theme and personalisation in the finest detail
Steel-back chairs with padded seats and backs
Chair covers with tie backs and decorated material for that extra touch of elegance
Rectangular tables for guests
Table linen to match the chair covers
Tables for high table with linen
Heaters for outdoor events held in the cold season
Serving tables
Marque – 250 seater with coloured roof lining
Bathroom facilities for male and female guests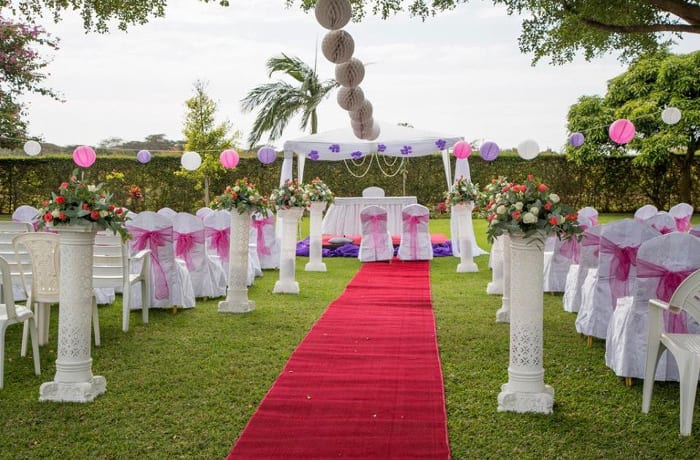 Monasha World · Weddings