Mugg & Bean Manda Hill
In the heart of Manda Hill Shopping Mall, Mugg and Bean is a perfect venue for catching up with friends. Originating from South Africa, Mugg and Bean has a fine selection of dishes for any time of day. Try their Caprese Stack (mozzarella cheese, basil pesto and cheesy pastry twists) or the Gourmet Burgers. This restaurant is surely home away from home or an office away from the office. With high speed WiFi connectivity. Mugg & Bean is a home away from home or an office away from the office – perfect.
Contact details
Mugg & Bean Manda Hill has not updated their information in over a year and these details might be out of date.
Casual dining restaurant
Mugg and Bean provides a warm, relaxed environment with an excellent service and value for money. This is a premier coffee emporium that offers a full service, coffee-themed quick-casual dining restaurant. There is a wide variety of outstanding signature dishes and a range of beverages, snacks and meals at an affordable price.
Enjoy their famous bottomless coffee that keeps conversations alive for hours with tasty giant muffins. Their generous portion sizes can satisfy any hunger. Mugg and Bean has a team of friendly staff that provide a homely atmosphere.
Along with great coffee, the'On The Move' concept offers a delicious takeaway selection to those in a hurry. From the giant muffins to gourmet sandwiches, quiches, danish pastries, croissants and 100% Arabica coffee, "On The Move" customers can still enjoy our legendary generosity.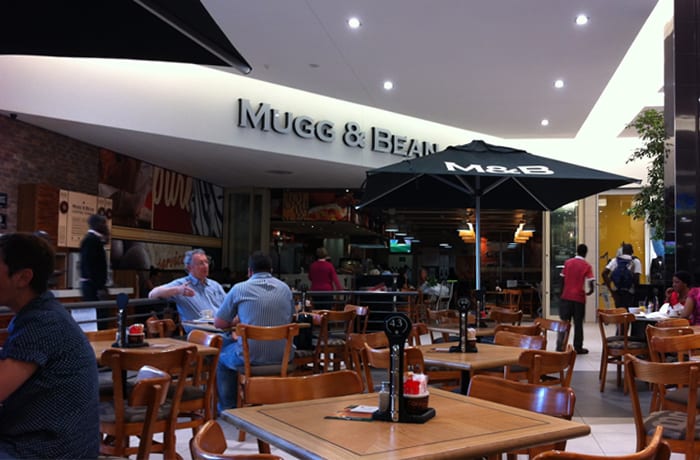 Mugg & Bean Manda Hill · Casual dining restaurant