Mukuni Big Five Elephant Rides
Riding on the back of these gentle giants you have the opportunity to get really close to wildlife in their natural environment. The Mukuni elephants are maintained in a free roaming environment, focusing on the animals' psychological and social fulfilment. You will have an opportunity to interact with the elephants and handle them. Game viewing on elephant back provides you with the unique opportunity of getting really close to wildlife that you could normally only view from far off.
Animal encounter
A unique opportunity to ride on and interact with elephants. Each elephant is under the charge of a handler. The trips are lead by a professional guide. The end of safari you get an opportunity to take photographs of yourselves feeding and interacting with these awesome African elephants.
Seated comfortably on the back of these gentle giants, the elephant ride offers you a chance to learn about nature. You are given the opportunity to interact with the elephant and feed it. The elephants love the human interaction. This is where your experience of a lifetime begins.
The journey not only offers an exciting experience, but it also allows guests to enjoy the tranquility as the elephant ride adding a plus point in your safari experience. The best part of the Elephant Back Safari is the exclusive and educational insight from the highly qualified and interpretive elephant handlers.
Rates include return transfers from The Falls Resort, Day Activity Centre and refreshments. Transfers from other accommodation facilities are excluded and need to added onto the total booking cost. Morning and afternoon elephant rides are offered.
The minimum age required is 3 years and children should be accompanied by parents or guardians.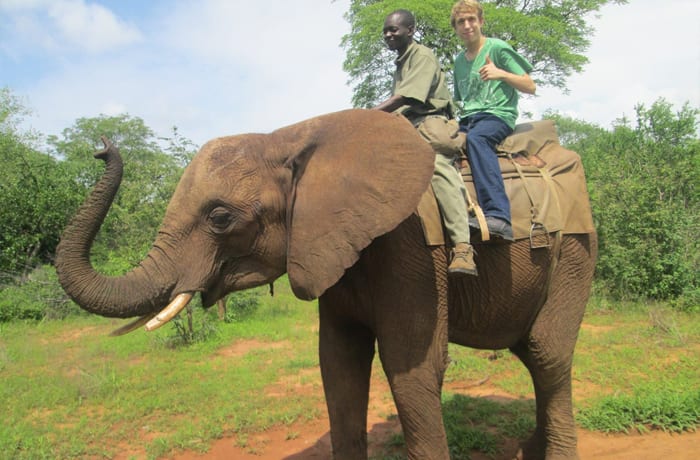 Mukuni Big Five Elephant Rides · Animal encounter