Mukuni Big Five Lion Walks
Here is an amazing opportunity to take a walk in the bush with the Mukuni African lions – an essential development towards their eventual release into the wild. The lions have no leashes or restraints, but you will be accompanied by trained professional guides and lion handlers. Bush walks help these young lions to develop survival skills and bush knowledge. Get up-close and personal encounters with Mukuni's African lions - experience the thrill and excitement of walking and interacting with these lions.
Animal encounter
Begin your adventure with a detailed safety brief before meeting the lions in the bush. The lion walk lasts approximately one hour. Guests are advised to wear comfortable and dull colour clothing. The magnificent animals are part of a carefully monitored program to reintroduce lions into their native Zambian habitat.
By the time the cubs reach the age of three, they are released into a large holding area and learn to fend for themselves without human help. Their offspring will be totally wild, though, taught life skills exclusively by their parents. These offspring are the ones that are eventually reintroduced into the planned 80,000-hectare Mukuni Game Reserve just north of Livingstone, as well as other areas in Zambia.
The lions are kept in excellent health and are in great condition. When the lions flop down for a little rest, guests are encouraged to touch them, always approaching from behind. After the first hesitant pat, you can relax. The morning and afternoon walks are offered. Cameras are allowed on the trip.
The lion walks and interactions pertaining to minors are allowed at the discretion of the senior guides.
Maximum 12 pax and minimum 2 pax per booking
Minimum age 12 years accompanied by an adult
Minimum height restriction of 1.5m
Rates include return transfers from The Falls Resort, Day Activity Centre and refreshments. Transfers from other accommodation facilities are excluded and need to added onto the total booking cost.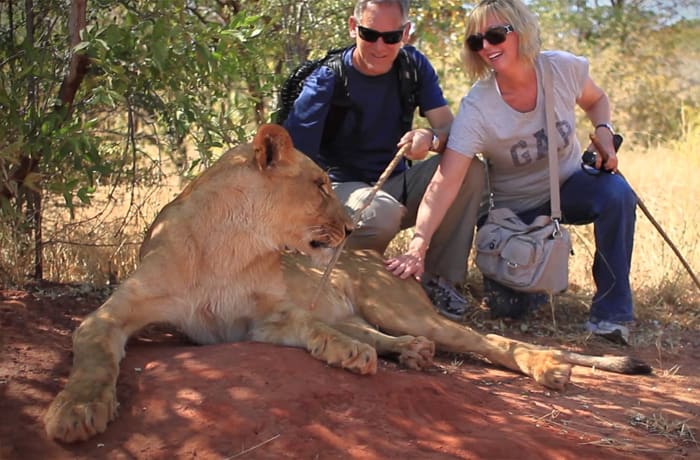 Mukuni Big Five Lion Walks · Animal encounter