Located in the Copperbelt Province of Zambia and based in Kitwe, Mukwa Lodge offers top quality accommodation. It has 17 fully furnished rooms, a restaurant and bar, all of which are exclusive to guests at the Lodge. Mukwa Lodge Restaurant offers fine Asian cuisine along with Portuguese food. The restaurant is exclusively for lodge guests. The restaurant has a bar area which serves up a wide selection of alcoholic and non alcoholic drinks.
Lodges
The Lodge has 17 fully appointed, en-suite rooms which are made up of three twin sharing rooms, 11 standard rooms with double beds, and three delux rooms. The rooms are set in a simple and elegant style and all the rooms are spacious and well ventilated.
Mukwa Lodge is conveniently located in a serene part of the vibrant Kitwe town, on a quiet side street which is just five minutes drive from the central business district. It is a natural destination for the discerning business or private traveller. It offers peace and quiet in a clean and friendly environment, but is also ideal for anyone looking for a quiet break.
Each room is equipped with tea/coffee making facilities, climate control facilities and a mini fridge which can be used at the convenience of the guests. All rooms have digital satellite television, wireless internet connectivity, a safe and room and laundry services are available.
The Lodge has a unique ambiance with tasteful decor that mixes African artifacts with colonial style interiors. Guests can relax in the leafy courtyard which has a well kept garden with a small fountain and stone benches. There is also a swimming pool.
Mukwa Lodge can also arrange airport transfers and payments through credit cards are accepted.Lodge accommodation
11 en-suite rooms
Climate control facilities
Digital satellite TV
Mini-fridge
Tea/coffee making facilities
Wireless internet
Safe
Facilities
Bar
Courtyard
Restaurant
Swimming pool
Mukwa Lodge and Restaurant - Kitwe · Lodges
Fine dining restaurants
The Mukwa Lodge restaurant offers an array of mouth watering dishes including Portuguese and Indian Cuisine. All meals are prepared by resident, internationally qualified chefs. The restaurant has a relaxed and friendly atmosphere with each table neatly set with a jar of flowers.
The restaurant has a relaxed and friendly atmosphere with each table neatly set with a jar of flowers. Guests have the option to enjoy their meal inside the charmingly low lit restaurant or right outside the restaurant where there is shade and a breeze.
The restaurant has a fully stocked courtesy bar which is renowned for its wide selection of alcoholic and non-alcoholic drinks including beers and fine wines.
The friendly staff at Mukwa Lodge are always on hand to serve guests with a smile. The restaurant is child friendly and children can play out in the courtyard while parents enjoy a refreshing drink.
Restaurant information
Exclusive to lodge guests
Alcoholic and non alcoholic beverages
Indian cuisine
Portuguese cuisine
Wines
Child friendly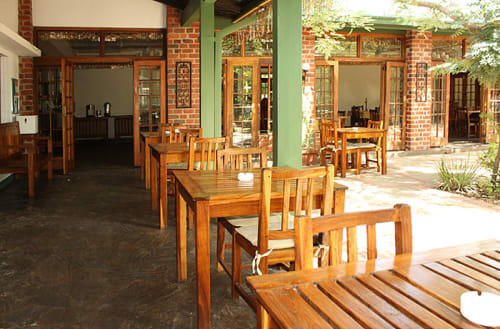 Mukwa Lodge and Restaurant - Kitwe · Fine dining restaurants