Nando's
Originating from South Africa, Nando's is an international casual dining restaurant chain well-known for its flame grilled peri-peri chicken. The restaurant offers a rich menu that has something for everybody — burgers, pitas, platters, delicious desserts, a kids' menu, a 'healthy at heart' menu, and of course the famous Nando's chicken. In Zambia, you'll find three Nando's outlets in Lusaka (Kabulonga, Makeni Mall and Manda Hill Shopping Mall) and one in Ndola (at Jacaranda Mall).
Casual dining restaurant
Nando's is a casual dining restaurant that's popular all over the world. The restaurant's promise is to give you excellent flavour and quality every time. The Nando's tradition of good food and passion for life is inspired by its Portuguese forefathers who discovered the African Bird's Eye chilli (known by locals as Peri-Peri).
Nando's offers diners a relaxed atmosphere, friendly service, and delicious food! The restaurant gets its chickens locally, making sure it is delivered fresh and never frozen. Nando's then marinates it for 24-hours, in a marinade that does not contain preservatives, colourants or artificial flavours. From the famous Nando's Peri-Peri chicken to fresh and simple salads, sides and desserts, Nando's guarantees you to have an exceptional dining experience. About Nando's In 1987, Robert and his friend Fernando (Nando for short) discovered a restaurant called Chickenland just south of Johannesburg in South Africa. The restaurant cooked authentic Portuguese flame-grilled chicken, combining the fire and flavour of Peri-Peri with chicken grilled on an open flame. The two friends bought the restaurant and changed its name to Nando's. The first of many Nando's restaurants was born.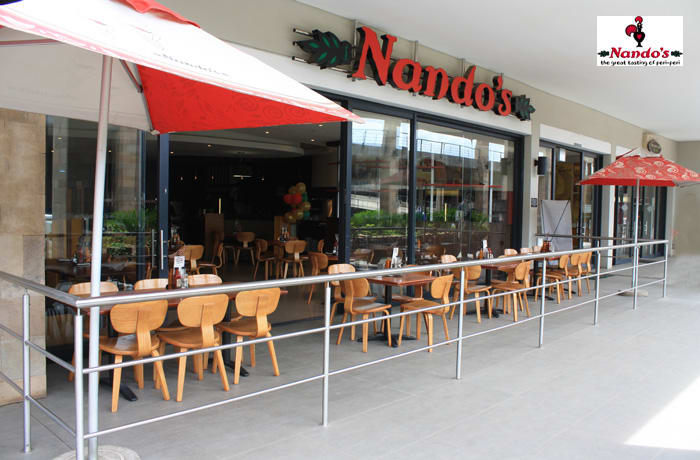 Nando's · Casual dining restaurant