News Café
News Café is a new and edgy restaurant and one of the latest places to eat in Lusaka with a trendy approach that makes it a great place to hang out, and enjoy food and entertainment, with a touch of exclusivity in their premier lounge It is an exciting and lively bar and trendy night spot, with a sophisticated but casual restaurant with a comprehensive range of alcohol beverages and cocktails. News Café has become one of the most popular haunts for those in the know in Lusaka. The premier lounge area in the News Café in Lusaka, Zambia, is an exclusive space offering an exclusive service.
Contact details
News Café has not updated their information in over a year and these details might be out of date.
Casual dining restaurant
This Lusaka restaurant is open the whole day for breakfast, lunch and supper. It has a cocktail lounge, premier cocktail lounge and a patio balcony setting so you have a selection of dining areas to suit your needs. The music is not too loud but it's great background music helping to create the stylish atmosphere.
News Café has a unique, smart and ultra modern approach to design and their menu is exactly what you would expect, perfectly matching their innovative approach. There is a large selection of options for breakfasts, light meals, house favourites, finger foods and platters to share. Breakfast includes traditional English, smoked salmon benedict through to croissants, classic flapjacks and healthy breakfast options.
For light meals you can sample the delights of wraps, salads, soups, tramezzinis, paninis and quesadillas filled with delicious ingredients. You can't go wrong with house favourites such as all kinds of steaks, burgers and chicken dishes – all cooked with a twist – don't expect the standard approach here, rather look forward to a more innovative take on food! The menu is diverse and caters for vegetarians.Information
Various evening events
Premier lounge area available
Restaurant menu includes
Smoked salmon
Benefict or omelette
Wraps
Toasted sandwiches
Rump melt
Lamb chops
Quesadillas
Burgers
Paninis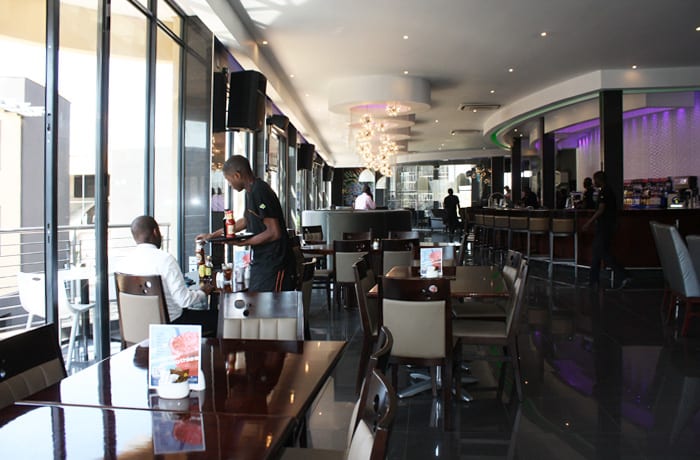 News Café · Casual dining restaurant
Pubs and Bars
This edgy pub and bar has a cocktail lounge, and outside patio area, as well as the premier lounge. With a modern and minimalist approach the atmosphere is lively but sophisticated. Keep an eye out for up and coming events on the News Café Twitter and Facebook pages.
Visit the News Café in Lusaka for top quality beverages and entertainment events where everyone wants to be. With access to the premier lounge (by reservation only), and snacks or meals from a fabulous menu whenever you want.
News Café weekly events
News Café has an exciting itinerary throughout the week to keep guests entertained. Guests can now enjoy a karaoke evening from 18:00 hours till close every Sunday through to Thursday in the News Café exclusive karaoke lounge.
Diva's night is on every Wednesday with resident DJ Beats providing the nights entertainment. Ladies are also treated to a cocktail special; two drinks get you an extra free cocktail. This promotion runs from 18:00 hours till closing time.
Join News Café every Thursday for 'Belegede Thursday.' Buy any two bottles of Mosi or Castle lagers and get one free from 16:00 hours till closing time. Every Friday, News Café brings the best party in town with DJ Beatz keeping the decks spinning till late.
Saturdays are for the old school music lovers as News Café takes its guests back into time, enjoy your favourite 80's and 90's music with DJ Beats. News Café is a one stop party destination everyday of the week.Executive beverages
Champagne
Cognac
Gin
Tequila
Vodka
Whisky
Single Malt
Non-alcoholic beverages
Smoothies
Frozen lemonade
Hot drinks
Soft drinks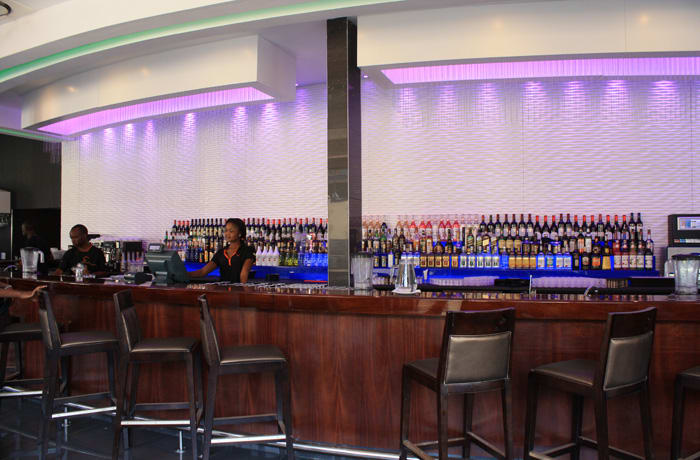 News Café · Pubs and Bars
Premier lounges
The premier lounge area in the News Café in Lusaka, Zambia, is an exclusive space offering an exclusive service. Here you can elegantly entertain business colleagues, or host small private parties. With obscured glass walls, this private area is only available to those who have made a prior reservation.
With seven or eight tables seating three to four people per table, this premier lounge offers top quality service at a premium. It is open to business people and anyone demanding privacy and a more exclusive dining and entertaining experience. When booking clients are requested to choose a bottle from the executive wine list.
The Premier Lounge at News Café is of an exceptionally high standard in the already polished general surroundings. News Café is a new and trendy venue in Lusaka with an innovative approach to dining and entertainment – sophisticated yet casual, busy yet personable – 'it's about the vibe'.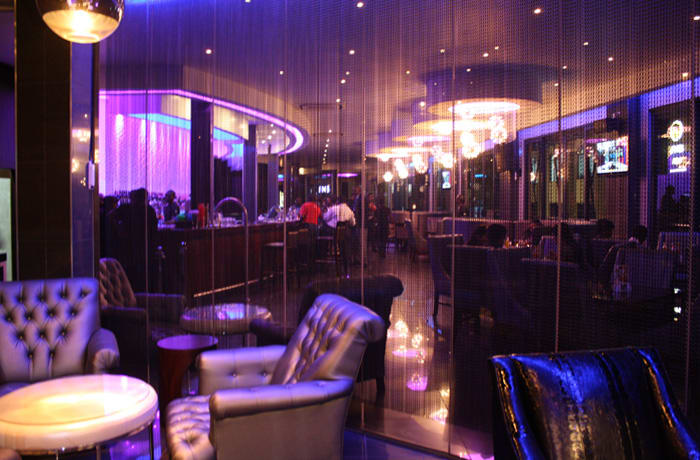 News Café · Premier lounges