Otter Bay Lodge
The Otter Bay Lodge provides a unique experience with all-year round accessibility and breath-taking sunsets over Zambia's Kafue Gorge hills. Only 100 kilometres from Lusaka, it makes an ideal venue for family getaways or business conferences. Otter Bay Lodge, near the Kafue Gorge in Zambia, has breath-taking views over the Kafue River, beautiful scenery in a peaceful setting and lots of bird watching opportunities. Water-based activities such as fishing, boating and animal spotting are also popular.
Safari lodge
Otter Bay Lodge in Zambia offers private safari accommodation and activities in a peaceful area, boasting plenty of beautiful scenery. With conference facilities for up to 20 people, Otter Bay Lodge makes a great venue for team building, focus groups, corporate getaways, bush meals out, weekend getaways, family holidays and anniversary parties.
Otter Bay Lodge has eight Victorian-style chalets all of which provide self-contained accommodation. There is also a boardroom some 30 meters into the water, connected to the mainland by a wooden footbridge. A swimming pool by the water's edge, a jacuzzi, a bar and an open air restaurant on wooden decking complete the facilities. It is essential that you book ahead to check the availability of the facilities.
Get to Otter Bay Lodge by car or boat
The lodge is only about 100 kilometres from Lusaka's Kafue roundabout. The last six kilometres is on a dirt road that branches off the tar road leading to Kafue Gorge Power Station just before the gate to the ZESCO barrier. The recommended mode of transport is a 4×4 vehicle. Alternatively, the lodge can be accessed by boat from the Kafue River Cliff and this takes about 20 minutes by speed-boat. Alternatively there are usually speed boats available for hire where the Kafue Queen sets off from, near the Kafue Bridge.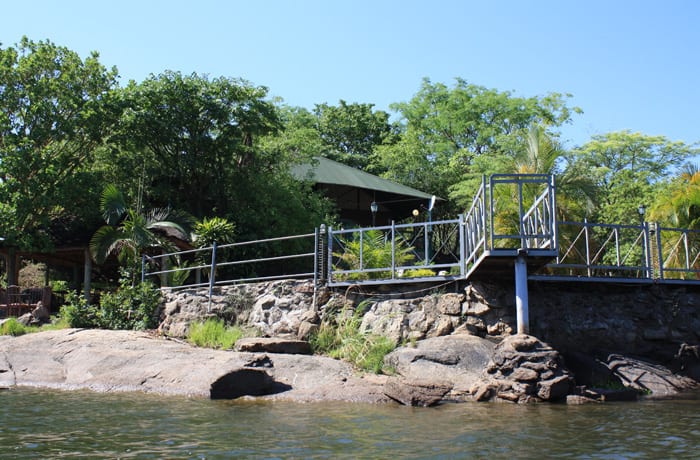 Otter Bay Lodge · Safari lodge
Safari
Unlike many camps and lodges in Zambia which go 'off season' from November to March during the rainy season, Otter Bay Lodge is accessible and open all year round, offering green season discounted rates. Although it is hot during this green season, the vegetation is lush and bird watching is excellent.
Other activities at Otter Bay Lodge include boat cruises, fishing and nature walks. Crocodile, hippo, and of course otters can often be spotted, along with water monitor lizards, squirrels, aardvark and monkeys. Otter Bay Lodge also provides chalet type safari accommodation. It is essential that you book ahead to check the availability of the facilities.
Otter Bay Lodge · Safari