Pumulani Livingstone
Located in the heart of Livingstone, 'Pumulani' (meaning 'rest') is a charming city lodge that offers some of the best quality accommodation in the area. It is located 10 minutes away from the Harry Mwaanga Nkumbula International Airport and local and regional bus stations for major coach operators. Pumulani Livingstone is just 12 minutes drive from the Victoria Falls which is one of the natural wonders of the world, making it ideal accommodation for both business and leisure.
Lodge
Pumulani Livingstone offers neat accommodation with spacious en-suite rooms. Each room has coffee/tea making facilities, a mini fridge and a modern Plasma TV that offers individual DSTV control. Rooms boast crisp, clean linen and a fusion of African and modern décor. Free Wi-Fi is available in each room.
Close to Pumulani is a selection of shops, chemists, courier services, main post office, foreign exchange bureaus, several banks and many businesses. Other main attractions include the David Livingstone museum, the Mukuni curio park and various cafés and pubs. The nearby Zambezi River offers excellent sun down cruises, wildlife viewing in the adjacent national park and visits to the Batoka gorges. A wide variety of tours can be arranged, tailored according to guests' interests and budget. You can choose to stay within the Livingstone area or visit the Chobe Game reserve and the Okavango National Park in Botswana. Pumulani Livingstone information
A fusion of African and modern décor
Coffee/tea making facilities
Plasma TV with individual DSTV control
Mini fridge
Air-conditioned rooms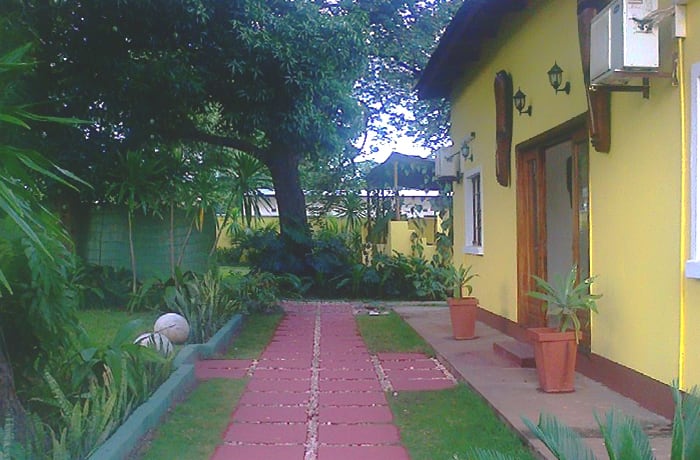 Pumulani Livingstone · Lodge
Casual dining restaurant
Open for breakfast, lunch or dinner, guests can enjoy casual dining in a friendly and relaxed atmosphere at Pumulani Livingstone. The restaurant serves a wide variety of a la carte and buffet styled meals, their cuisines emphasizes on fresh flavours, locally and inspired dishes. They restaurant prides themselves in offering high quality food.
Pumulani Livingstone is a friendly, warm restaurant providing a casual dining experience in a relaxed atmosphere. The atmosphere provided is great for; lunch with friends and family. Their goal is to deliver tasty and healthy food whilst you enjoy a comfortable and enjoyable dining experience from their friendly waiting team.
Pumulani Livingstone · Casual dining restaurant