Rosewood Place Apartments
Established in 2001, Rosewood Place provides 12 elegant fully furnished apartments with modern amenities and furnishings, ideal for visitors looking for accommodation in the Copperbelt. These apartments are located in a secure complex with access to shopping malls and main roads. On request a team of qualified chefs are available to cater for your meals. All units are available for long stay and short stays. The apartments have lush green gardens and secure parking is available, with 24 hours security.
Apartments
Rosewood Place provides a selection of one to two bedroom self-catering apartments. Each apartment has a fully equipped kitchen with all the necessary kitchen utensils, spacious sitting room and bathroom. Each individual apartment is unique and boasts elegant and tasteful decor.
Guests can unwind and relax in the tranquility of the lovely well maintained gardens. Rosewood Place has a selection of fully furnished apartments that are designed with complete comfort of guests in mind. The apartments comprise of one and two bedrooms. Living room The living room area feature a comfortable sitting area, writing desk, DStv and high-speed wireless internet access. Bedroom Bedroom includes a queen-sized bed, four deluxe pillows, down blanket, lush duvets, a pillow, and high thread-count quality sheets. Dining room The dining area is adjacent to the living room, seats up to four people. Additional seating can easily be arranged. Kitchen The kitchens are spacious, fully equipped with all major appliances and a ton of storage for your convenience.
Quality, contemporary furniture
High speed internet connection
Basic DStv television service
Housekeeping
Secure parking space
Digital satellite TV (DStv) with a choice of eight channels
Telephone facility
Air-conditioning
WiFi connectivity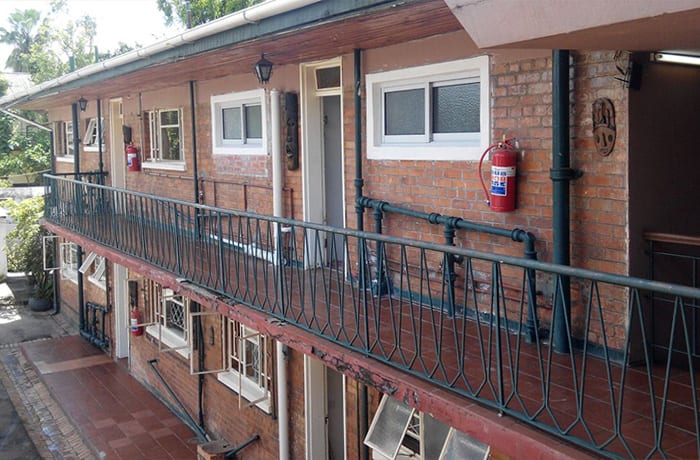 Rosewood Place Apartments · Apartments