Royal Solwezi Hotel
Established in 2007, the Royal Solwezi Hotel offers deluxe accommodation and convenience to both businessmen and travellers alike. The Hotel is located just 10km from First Quantum's Kansanshi Mine, 60km from Barrick's Lumwana Mine, and about a 15 minute drive from Solwezi Airport. With a choice of accommodation the hotel offers 48 luxury rooms, restaurant and two bars, an outdoor swimming pool and conferencing in a quiet and tranquil environment.
Hotel
Royal Solwezi Hotel offers a great service to tourists and business people alike. Every room has an en-suite bathroom, queen size bed, private balcony, air conditioning, electronic safe, 15 satellite TV channels, tea and coffee making facilities, telephone and internet.
The rooms include 26 standard, 15 double, two double executive rooms and five presidential suites. All rooms have code operated safes where you can keep your valuables while at the hotel. Cotton sheets, soft blankets and towels are provided for guests and are changed regularly. The rooms are cleaned daily. Other facilities includes, room service, secure open parking, 24 hour security, and a swimming pool.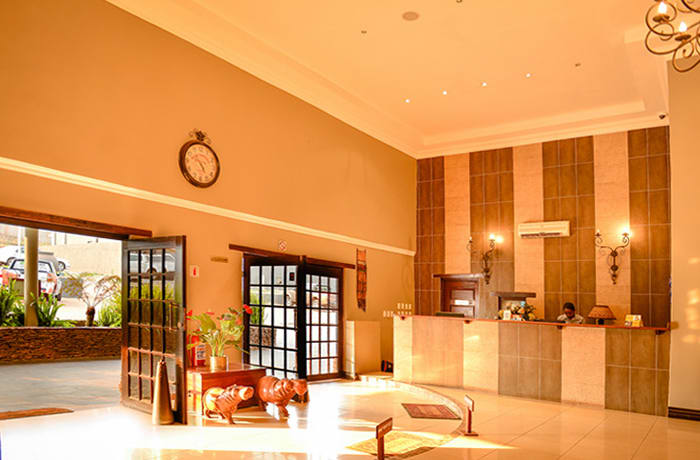 Royal Solwezi Hotel · Hotel
Fine dining restaurant
The Royal Solwezi Hotel restaurant offers excellent continental and full English breakfasts, as well as buffet or a la carte dinners and lunches. For the not so hungry, drinks and snacks are offered. With two bars the hotel bar and the sports bar which is primarily open for major sporting events.
With a wide range of sumptuous dishes to choose from, both local and international cuisines with a buffet and a la carte menu available. The hotel bar offers a relaxed setting for informal meetings, afternoon tea or friendly get-togethers. The sports bar offers guests a relaxed and informal atmosphere featuring large plasma screens where guests can watch all the latest sporting and news action while enjoying a cold beer.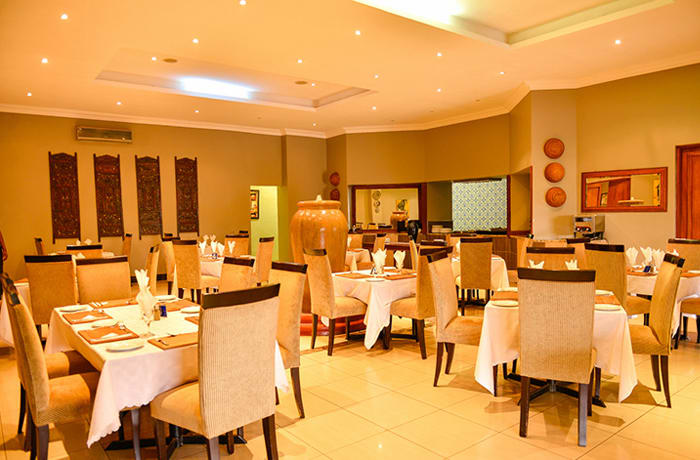 Royal Solwezi Hotel · Fine dining restaurant
Conference venue
Royal Solwezi Hotel offer two conference rooms – one seating up to 20 delegates, and the other able to hold up to 250 delegates. Both rooms are stylishly designed and are enhanced with natural light and supported by state of the art facilities, air conditioning and free high-speed, wireless internet.
The conference rooms can be configured in a way to suit your needs. The rooms offer comfort and well-being of conference delegates. Seating arrangements are possible in classroom style, U-shape and cinema style with rectangular tables and comfortable chairs. Facilities include projector, flip chart, white board and wireless internet.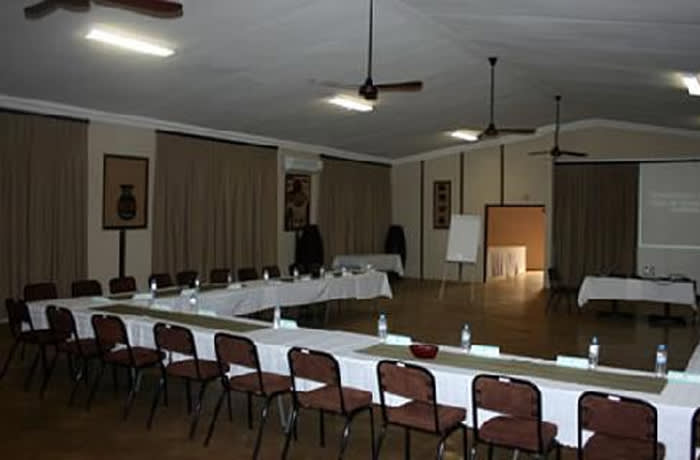 Royal Solwezi Hotel · Conference venue
Apartments
The luxurious Royal Apartments are made up of one and two bedroom units for stays of a day, a week, a month or a year. You'll find these fully serviced apartments in the grounds of the prestigious Royal Solwezi Hotel. Ideal for corporate rentals, as well as for individuals. Use the flexible self catering option, or the convenient hotel facilities.
The Royal Solwezi Hotel offers a variety of apartments to choose from – guests can enjoy exquisite interior details plus all the comforts of home which offer a home away home for guests.These rooms allow long-term guests to enjoy their own peace and quiet. The apartments are serviced by trained maids and cleaning services are available every day. Secure parking with 24 hour security available.
Royal Solwezi Hotel · Apartments