Showmasters Zambia
ShowMasters are a leading custom-build design and shell scheme exhibition company. This company specialises in creating professionally designed exhibition stands and booths and hires out design-led chairs, bar stools, bar counters, brochure racks and carpet tiles. ShowMasters use 'Octanorm Exhibition Systems' to provide designer stands and a complete exhibition package. The company will transform its customer's ideas into impressive modern exhibition structures that reflect the customer's brand identity.
Multimedia and Advertising
ShowMasters' track record speaks for itself. A significant portion of their business comes from referrals from blue chip companies who have entrusted them to create their exhibition stands and booths. Repeatedly experiencing a service delivery above and beyond their expectations, these companies have become advocates.
Everything for your exhibition stand
Stand design
Stand construction
Stand accessories
A complete exhibition stand service ShowMasters supply the following:-
Branding
Brochure racks
Carpet tiles
Counters – curved or straight
Cubed furniture
Designer bar stools and bar counters
Designer chairs
Designer stands
Kiosks
Shell scheme booths
Temporary offices
Together with their sister companies Rooney's Hire and Image Promotions, ShowMasters provides a complete exhibition management service in Zambia. Recent involvement in major events
In June 2013, ShowMasters was recognised at the Zambia International Mining & Energy Conference & Exhibition, the fourth largest mining conference in the world: The Barloworld stand, designed by ShowMasters, was given the 'Best Exhibition Award'
In April 2014, ShowMasters created the designer stands for the Botswana Tourism and Zambia Tourism Board at the Zambia International Tourism Expo (ZITE)
In March 2016, ShowMasters designed the layout for the Gemfields Kagem Mining Emerald and Amethyst Auction
In April 2016, ShowMasters created several exhibition stands at the Agritech Expo
Benefits of a professionally designed exhibition stand The professional team at ShowMasters is motivated and creative, aiming to provide solutions on how best to maximise the marketing opportunity that exhibitions present for your business and brands. A well designed and presentable exhibition stand is effective for:
Building relationships with existing customers
Educating the market and building brand awareness
Demonstrating products or services
Generating media exposure
Launching new products
ShowMasters can help you achieve all of these and more. Sister companies in exhibition management
Rooney's Hire Zambia
Image Promotions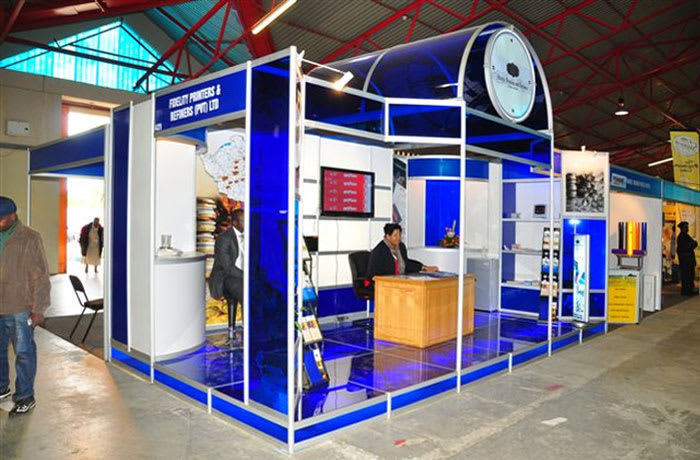 Showmasters Zambia · Multimedia and Advertising