Shumba Camp
Located on a tree island in the centre of the breathtaking Busanga Plains is stylish Shumba Camp. Its six luxury tented units are spacious, en-suite with both indoor and outdoor showers, and all raised on wooden platforms with spectacular views of the surrounding plains. Meaning 'lion', Shumba is aptly named after the prides of lion seen in the area. The plains are home to hundreds of red lechwe, puku, roan and oribi. Sail over the plains in a hot air balloon, the most exclusive wildlife ballooning in Africa.
Safari camp
The bar and dining area is shaded by spectacular fig trees and boasts magnificent vistas over the open wildlife-rich plains. Dinner takes place either on the deck or in the cosy boma, along with a little Zambian culture while the camp's main deck is a perfect place to star gaze or relax after your evening meal.
Kafue National Park, one of the largest in Africa, has many varied habitats: the Kafue, Lufupa and Lunga rivers with adjoining peaceful stretches of riverine vegetation, dambos and wetlands, extensive miombo woodland with seasonal floodplains and swampland in the north. Owing to this diversity, Kafue is blessed in wildlife.
A raised wooden viewing deck has been built, allowing guests to relax and enjoy an elevated vantage point over the productive surrounding Busanga Plains.
Known especially for its large tree-climbing lions Shumba Camp consists of six spacious luxury en-suite tents, all on raised platforms. Activities include day and night game drives and water-based activities when the Plains are still inundated in the early part of the season (usually June, and July). The hot-air ballooning season in Kafue, offers an incredible opportunity to view an array of unique wildlife from above. This must rate as Africa's most exclusive viewing of big game from a hot-air balloon.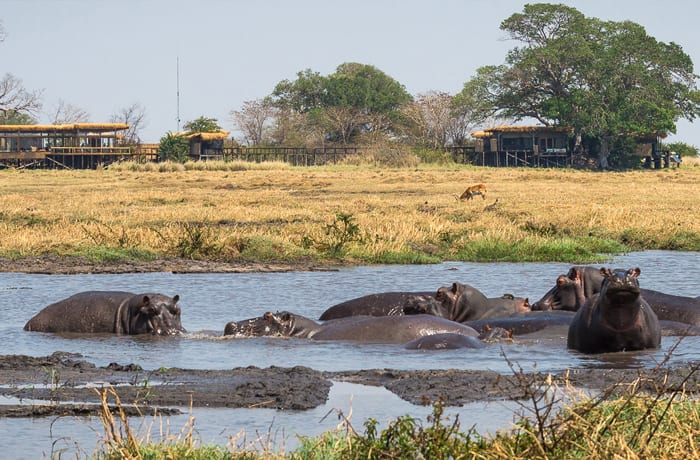 Shumba Camp · Safari camp