Sindabezi Island Camp
Sindabezi Island is unique – the discerning traveler's best kept secret. An idyllic, exclusive camp on our very own private isle on the Zambezi River it is the only luxury bush camp from where Victoria Falls can comfortably be explored. Experience the large number of activities in the area during the day and return to a tranquil haven, a thousand light years away from the bustle at night. Sindabezi Island is currently one of the top 10 eco lodges in Africa.
Safari camp
Sindabezi has only five open-sided thatched cottages, allowing guests to soak up the sights and sounds of the African bush in the perfect, pristine setting. Views across the flood plains of the Zambezi and into the nearby National Park complete the experience. Sindabezi Island is a short distance downstream from Tongabezi.
It is a tiny island and, though close to the towns of Victoria Falls and Livingstone, it offers a rewarding wildlife experience. The bird-life is outstanding and buffalo, elephant, hippos, waterbuck and impala are often seen around the island.
There are five thatched cottages dotted around the shores of the island. Similar in design to the Tongabezi houses, with an open front facing onto the river, the cottages have every amenity you could wish for including: sundeck, outside heated shower, canopied bed and 'loo with a view'.
The island is fully staffed and a qualified guide hosts guests. Holiday activities include boat trips or canoeing, game viewing, birding, fishing and walking.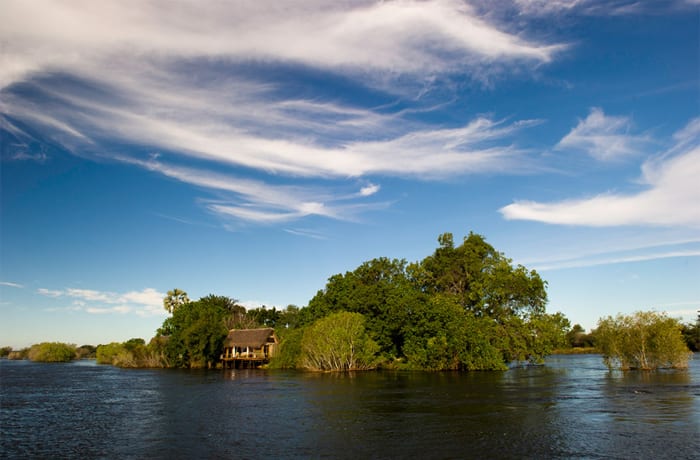 Sindabezi Island Camp · Safari camp