Tapera Industries Ltd
Tapera Industries supplies quality renewable energy services and products. This company is in the business of processing vegetable oils into natural soaps. Some of the natural soap products include a range consisting of laundry bars, toilet soaps, washing paste and organic shampoo. The process involves collecting waste vegetable oil from local restaurants and the use of jatropha curcas seeds, which excrete vegetable oil, and can be used for processing natural soaps.
Domestic products
Tapera has diversified its products to include natural soaps (Chinkondia), sunflower cooking oil, TAPA hand wash paste and other cleaning products perfect for removing motor grease, oils and domestic dirt. Get the full cleaning power without risking the integrity of your clothes with TAPA washing flakes and dish-washing liquid.
Tapera Industries Ltd was founded in Zambia in 2009 as a small scale bio-fuel business in Lusaka. They work with local restaurants to collect waste vegetable oils, which they clean and then process into soap products. On average, Tapera procures over 300 litres per month. To date they have processed over 150,000 litres of used cooking oil into bio-diesel fuel. The company has signed up over 1500 small scale farmers on its out grower programme. Tapera's team of dedicated employees work with the farmers to manage existing jatropha curcas trees. The nuts produced from these trees are harvested from January to May, annually. These nuts are then transported to the storage points in preparation for processing before they are processed into Jatropha Straight Vegetable Oil (JSVO) and Seed Cake. Their vision is to be the leading producer of bio-diesel fuel in the Southern Africa region. Natural soap products The TAPA Laundry bar is a multi-purpose soap that is highly effective and can cut through grease while maintaining the properties of a mild and gentle soap. The company produces soap from vegetable oils through the process of saponification, It is made by saponifying vegetable oils and fats with lye to make soap bars.The laundry bars are their biggest mover, which they supply to mass markets in Lusaka's biggest market, Soweto. Tapera Industries is duly registered with the Zambia Revenue Authority (ZRA), Lusaka City Council (LCC), Zambia Environment Management Agency (ZEMA) for used cooking oil waste management license and has been product tested for conformity on soap products derived from used cooking oil processing. Tapera is also affiliated to the Zambia Renewable Energy Alliance (ZARENA).Products
Tapa natural soap (Chinkondia)
Biodiesel fuel
Jatorpha seed
Jatropha high protein animal feed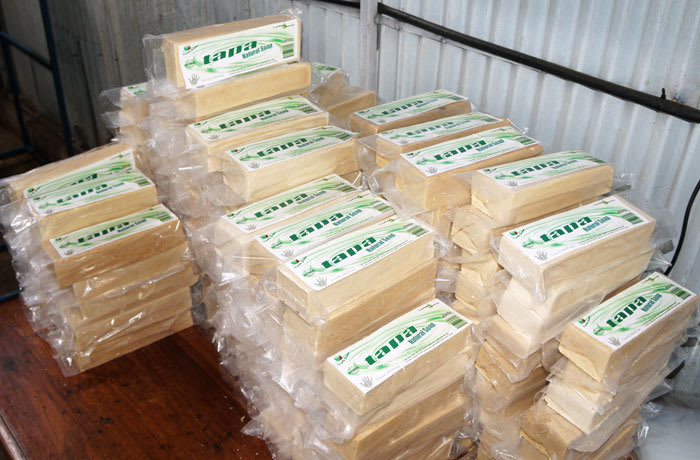 Tapera Industries Ltd · Domestic products