Trivedi & Co. Ltd
They have a fully stocked bottle store which supplies a full range of alcoholic and non-alcoholic beverages at both retail and wholesale prices. The company's main suppliers include Zambian Breweries Group, Kazuma Enterprises, Sunrise Beverages, Polar Ice and Pan Africa. They offer a fully stocked bar hire facility with both alcoholic and non-alcoholic beverages, for all types of events.
Alcoholic beverages
Trivedi supplies both individual consumers and the hospitality sector as a whole. The company offers a wide selection of alcoholic and non-alcoholic beverages, stocking all Zambian Breweries products such as Castle, Mosi, Castle Lite, Carling Black Label, Mosi Gold, Coke, Fanta, Sprite, Soda Water, Tonic, Ginger Ale, Lemonade and more.
Other beverages in stock include spirits such as whiskeys, brandy, gin, vodka and rum, with brands that include:
Selections of beers wines and spirits also include
Brandy – Klipdrift, KWV, Viceroy
Creams – Amarula
Gin – Gordons, Bombay, Gilbey's
Rum – Captain Morgans, Malibu, Bacardi
Vodka – Smirnoff, KWV, Absolute
Whiskey – Johnnie Walker Black and Red, Jameson, J&B
Wines – Obikwa, Golden Kaan, Clumberg, Zonnbleom, JC LeRoux, O/Meer Red & White, KWV
Cocktail mixers, wines and creams are also available
Other products stocked include ice blocks and ice cubes.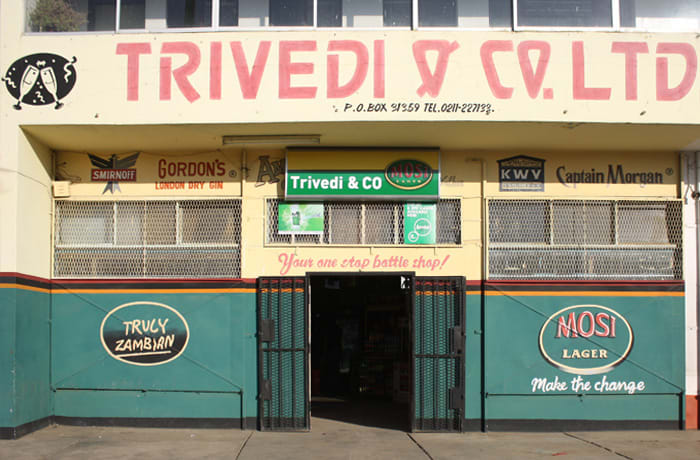 Trivedi & Co. Ltd · Alcoholic beverages
Event and hospitality management
They offer a professional hospitable service by providing various events with beverages, glasses, waiters and bar service men. The company is able to set up a bar facility fully stocked with all the beverages that the client desires. This bar facility operates a sale or return policy ensuring the client does not incur unnecessary costs.
Trivedi & Co. Ltd provides this service for all types of events such as corporate functions, weddings, birthday parties and conferences.
Trivedi has a list of credible suppliers for all its products and puts great emphasis on quality. All beverages are checked to ensure that they have not been tampered with. The company's main suppliers include Zambian Breweries Group, Kazuma Enterprises, Sunrise Beverages, Polar Ice and Pan Africa
Trivedi & Co. Ltd information
Bar hire facility for various events available for hire
Includes the provision of waiters and bar service men
Bar operates on a sale or return basis
Beverages are sourced from credible suppliers
Glasses are included in this bar hire facility
Trivedi & Co. Ltd · Event and hospitality management