Tsika Island
In July 2010, Chongwe River Camp opens a purpose-built exclusive bush camp on the incredibly beautiful Tsika Island, allowing guests the option of a two- to five-day canoe safari along the Lower Zambezi. Located about 35 kilometres upstream from Chongwe, close to the village of Mugurumeno, Tsika Island Bush Camp can accommodate six guests in three bush rooms, each with en-suite facilities. Tsika Island is a community partnership project and combines the canoeing safari with a cultural experience.
Safari camp
Offering visits to the Mugurumeno Basic School and the cultural village on the nearby mainland as activities. The Chiawa community has pledged exclusive use of Tsika Island to Chongwe, which in turn has pledged $50 of each bed night to directly benefit the community, making them real partners in the project.
At Tsika Island, activities are tailored to make the most of this incredibly diverse wilderness. Game viewing can be done from a vehicle in either the Lower Zambezi National Park or the Chiawa Partnership Park or, if you prefer, from a boat on the Zambezi. Canoeing, walking and, of course, fishing, are also offered. And for those interested in the rich cultural heritage of the area, community visits can be arranged.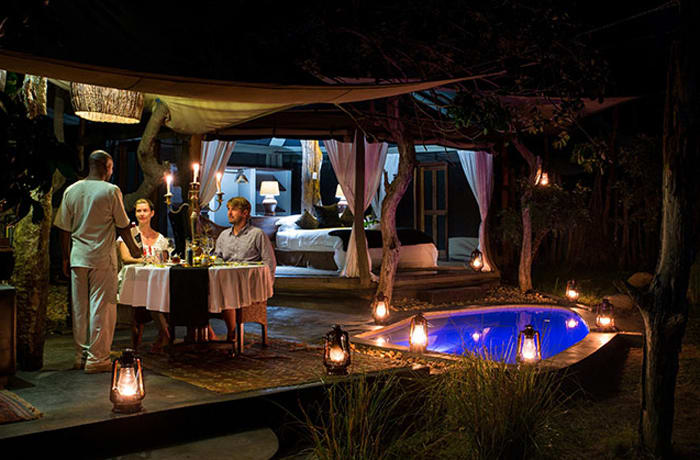 Tsika Island · Safari camp