Tuma Car Hire Ltd
Established in 2006, Tuma Car Hire provides quality service delivery in the car rentals industry. The company offers a variety of professional services such as chauffeur driven and self-driven cars, city tours and conference, hotel and airport transfers. Tuma Car Hire has a large and well maintained fleet of vehicles to suit various customer needs. The company has set strict rules which all drivers employed have to adhere to. All drivers have clean driver's licenses and are trained in mechanics and first aid.
Car rentals
With the apt motto 'The way to reach your destination', Tuma Car Hire provides professional car rental services with excellent service delivery. It aims to contribute positively towards the growth of the tourism industry through the efficient service it provides. All vehicles are comprehensively insured with a liability limit per person.
Safety, maintenance and quality control
All vehicles are serviced by an in-house mechanic who is employed to maintain and service them
A mechanical check is carried out before commencement of hire
All vehicles are serviced every 5,000 km
All vehicles are inspected before commencement of hire to ensure that they are clean and in a roadworthy condition
All Tuma Car Hire vehicles are comprehensively insured with a liability limit per person of ZMW 30,000 and ZMW 60,000 per event
Drivers are always smartly dressed and at the pickup point 15 minutes earlier In line with road safety regulations, all vehicles are fitted with a first aid box and fire extinguisher
In cases where the vehicle is being driven by a company driver, indications of fuel levels are monitored
A log sheet is in place to monitor the usage of the vehicles, and reporting time and knocking off time for the drivers. At the end of each day the client confirms vehicle movement by signing the log sheet.
Speed limits The company policies and regulations are drawn from the Road Safety Agency Act. Drivers are instructed to drive at 65 kph in built up areas while the highway speed limit is 110 kph – 120 kph (depending on road condition and area.) A speed limit of less than 100 kph on gravel roads is advised. Contingencies In case of a vehicle breakdown, there is always a vehicle on standby and the company has two communication hotlines which are open 24/7. Drivers are provided with emergency money in case of any unforeseen events during hire. Drivers going on a long term hire receive refuelling money through their individual bank accounts. Services offered
Chauffeur driven for all vehicles
Self-driven (saloon and 4×4 to corporate clients)
Hire of drivers
Conferences, hotels and airport transfers
City tours
Tuma Car Hire fleet of vehicles
Toyota Camry
Nissan Safari
Toyota Chaser
Executive Toyota Land Cruiser
Prado
Mitsubishi Pajero
12, 16, 26 and 30 seater buses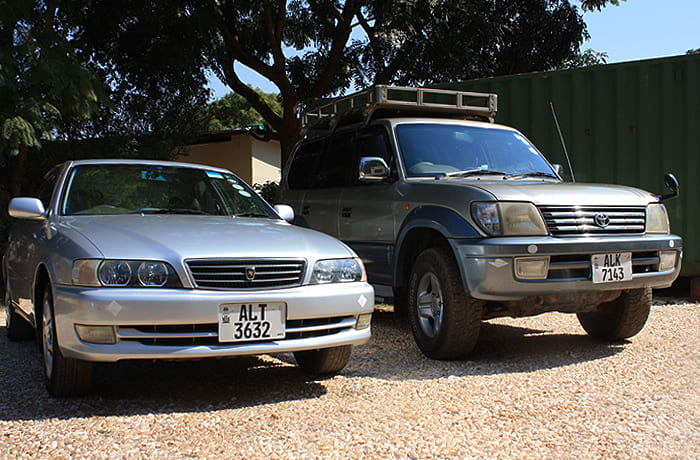 Tuma Car Hire Ltd · Car rentals