Victoria Falls River Safaris
Explore the secluded waterways around the islands above the Victoria Falls in a comfortable, propeller-free boat that allows for spectacular close-up game viewing and photo opportunities. The area is rich in bird life, hippos and elephants. A light meal or snacks are provided, and hot and cold beverages are available. Victoria Falls River Safaris offers you an exceptional upper river safari experience in specifically designed propeller-free safari boats that can operate in shallow water.
Day cruises
Victoria Falls River Safaris offers you an exceptional upper river safari experience to amazing parts of the Zambezi that have previously been out of reach. Enjoy the thrill of speeding over rapids then slowing down for a leisurely game viewing trip around the islands.
Early morning cruise: Collection time is 08:00 hours for your river safari adventure which offers fantastic game viewing and great photographic opportunities. Muffins and hot refreshments complete your two-hour river experience.
Lunch cruise: You will be collected at 11:30 hours for your two-hour cruise on the majestic Zambezi. The chance of seeing white rhino, breeding herds of elephant, buffalo, giraffe, and smaller antelope as well as an extensive array of birdlife becomes a reality as you explore the river. A light meal and beverages are included.
Sunset cruise: Collection time is 15:30 hours in winter and 16:00 hours in summer. As the light softens and the wildlife heads to the river for their last drink of the day, your two-hour late afternoon's game viewing cruise begins. Light snacks and sundowners complete this magical experience on the Zambezi.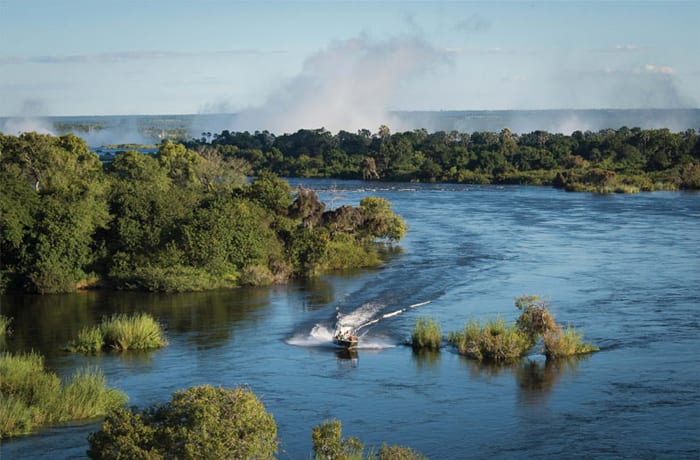 Victoria Falls River Safaris · Day cruises
Fishing
With over 75 species in these waters, you can't go wrong with a fishing excursion on the Zambezi River. It offers one of the most exciting and challenging experiences for avid anglers: an opportunity to catch the tiger fish, rated by many sports anglers as the finest freshwater fighting fish in the world, a powerful swift predator.
The fishing starts at Kalai island about 9 km above the falls. We then move downstream between the islands looking for the best spot where the fish are found.
At 07:30 Sun International residents are collected by boat at the Royal Livingstone deck, and a road transfer will collect guests from accommodation venues in Livingstone town. Departure is at 08:00 from the Royal landing jetty for an exciting morning's fishing on the Zambezi. Both trips return at 12:00.
Victoria Falls River Safaris supply all fishing equipment and tackle. A standard replacement fee will be charged for all lures lost by the angler.
Non-fishing partners are welcome to join the river safari experience, special rates apply. Maximum anglers 6, maximum anglers per boat 4 plus non-fishing partners. The rate includes return transport to your hotel, early morning tea and coffee, a light snack and cold beverages.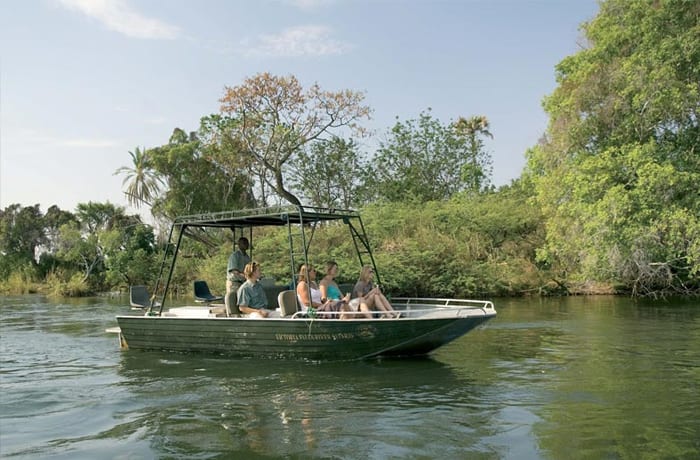 Victoria Falls River Safaris · Fishing