Village Rest Lodge & Gym
This relaxed lodge offers pleasant and inspiring African-themed accommodation with great mingling areas for visiting families and groups of friends. Village Rest Lodge & Gym has a strong emphasis on fitness, with gym facilities and an olympic length swimming pool. But residents and day guests can also enjoy weekend BBQs, walks and other activities. And there's an on-site bar and restaurant to keep you refreshed. The campsite is often used by groups exploring Zambia and other African countries.
Contact details
Village Rest Lodge & Gym has not updated their information in over a year and these details might be out of date.
Lodge
The Village Rest Lodge accommodation is made up of eight self-contained chalets that cater for up to three people. Chalets have a thatched roof and are beautifully set in stone. Wireless internet facilities are available. Just a short distance from Lusaka, this spot offers residents a perfect relaxing weekend, or longer.
The Village Rest Lodge never gets overcrowded, and is quiet and peaceful. Each stone-faced chalet has a thatched roof, mosquito gauze on windows and mosquito nets over the beds. Chalets are regularly fumigated to maintain a mosquito-free environment. Satellite TV and a full English breakfast is included with all chalet accommodation. There are wireless internet facilities available, and room and laundry services on request. Village Rest also has a children's playground and a volleyball court.
Village Rest room rates (indicative only) – includes full English breakfast
Single rooms: USD60
Double rooms: USD75
Extra bed: USD10
Special rates for group bookings
Special rates for long term stays
Pay in US dollars or Zambian Kwacha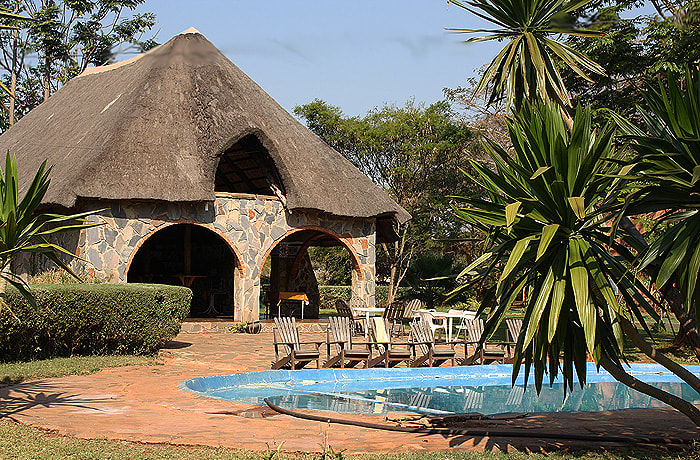 Village Rest Lodge & Gym · Lodge
Campsites
The Village Rest grounds are well suited for camping, and the facilities create a friendly, homely atmosphere. Guests can enjoy the onsite gym and competition-length swimming pool. This campsite is a popular stop-off point for groups exploring Zambia and other African countries.
With spacious and well-kept campsite and grounds, guests feel like they have their own private space for family and friends. Guests can opt to cook up their own storm or make use of the Village Rest restaurant that serves up a refreshingly simple cuisine. The restaurant is open for early risers from 06:30, right through to 20:30 every day. The full English breakfast is also very popular with camping groups. And there is a large fully-stocked bar and mingling area.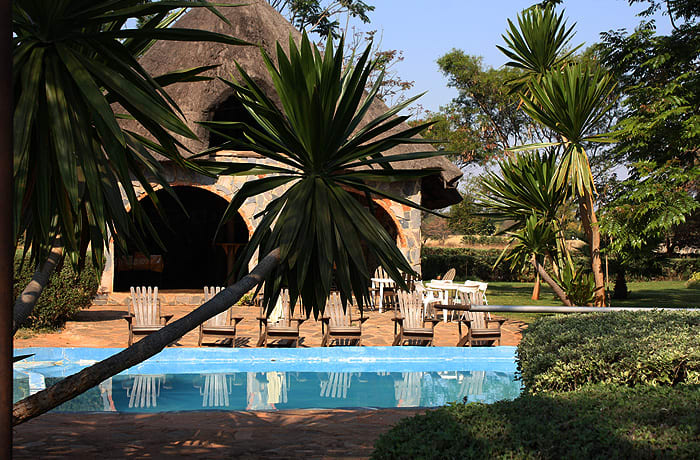 Village Rest Lodge & Gym · Campsites
Fitness
The gym at Village Rest is a large 200 sq m building with a beautifully decked out, fully equipped training area. Facilities include weights, treadmills, cross-trainers and stationary bikes. Professional supervision and training assistance is available. The Village Rest management team is affiliated to the Zambia Amateur Swimming Union.
Gym
As well as individual workouts, the Village Rest Gym offers both Zumba classes and fitness classes (aerobics, pilates, circuit and resistance training). Support for individual fitness and weight loss is best arranged by appointment so that clients get the most out of the service.
Swimming
The Village Rest Gym management team are closely affiliated with the Zambia Amateur Swimming Union and a community based swimming club – the Kapenta Swimming Club – that caters for a number of under privileged but talented swimmers. This club is managed and coached by one of The Village Rest management team members pro bono. The Kapenta Club is now second in the National League and home to 12 members of the National Swimming Team.
A big percentage of these swimmers rely on the active support given them by Village Rest. Management also help other less fortunate swimmers from out of town when they come to Lusaka for competition, accommodating them at cost or even for free whenever possible. In order to beat the winter chills, the 25m lap pool at Village Rest is now covered and heated, allowing clients to swim throughout the winter season.
Village Rest Gym opening hours and times of classes
The gym is open Monday to Sunday 05:30 to 20:30
Zumba classes take place Monday, Tuesday, Thursday at 8:30
Fitness classes take place Monday to Friday 08:00 to 09:00, and Tuesday and Thursday 17:30 to 18:30
Village Rest Gym fees
Daily fee: USD7
Monthly fee: USD60
Students monthly fee: USD30
Three months fee: USD150
Annual fee: USD600
Pay in US dollars or Zambian Kwacha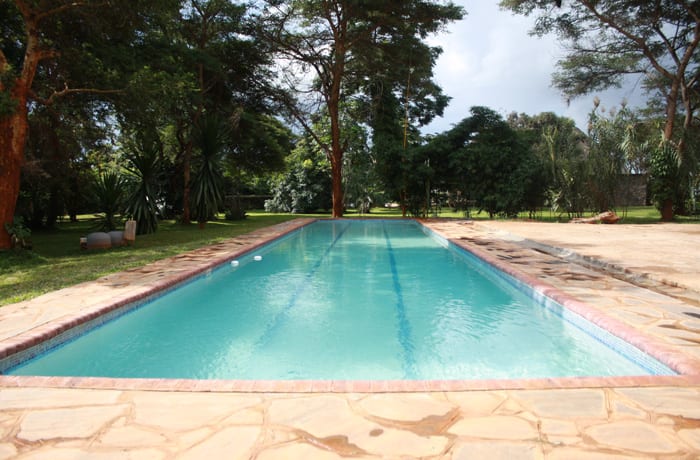 Village Rest Lodge & Gym · Fitness