This company is a major supplier of quality safes, security doors, banking equipment and alarms to businesses in Zambia. Zamsafes and Alarms has a passion to deliver locally made products to international quality, together with great customer service. They also supply quality steel cabinets and burglar bars. Zamsafes and Alarms is happy to quote for orders from companies based in DR Congo, Malawi, South Africa or anywhere else in the region.
Metal fabrication and parts
As one of the few local suppliers of high security products, Zamsafes and Alarms manufactures custom-built security products with an excellent service both before and after sales. Safes and vault doors come with a lifetime guarantee and locks are serviced every 6 months.
Zamsafes and Alarms have detailed knowledge of the security industry, with experience in manufacturing, steel metal fabrication and security. Zamsafes and Alarms offer security products together with reliable technical expertise, and a turnaround time tailored to suit customers' requirements, to the banking, retail, manufacturing, mining and farming sectors in Zambia. Value addition & backup service
Reliable technical expertise
A turnaround time tailored to suit your requirements
Value for money
Unmatched after-sales service offered by well-trained Technicians
Very prompt complaints resolution
After sales follow up
Custom made products
Zamsafes and Alarms clients Zamsafes and Alarms work with individual clients to create custom-made solutions. Although a relatively new company they have already supplied security products to many high profile companies in Zambia. The list of customers includes: Financial Institutions
Banc ABC
Bank of Zambia
Bayport Financial Services
Eco Bank
Finance bank
Focus finance
Indo-Zambia Bank
Stanbic Bank
Standard chartered bank
Unity Finance
ZANACO Bank
Government Institutions
Examinations Council of Zambia
Ministry of works & supply
National Science and Technology
UNZA
Zambia Bureau of Standards
Retailers
Baby foods
Bata Shoe Company
Dulux Paints
Edgar's stores
Embassy Supermarket
Handyman's Paradise
Hifi corp
Jet stores
Kentucky fried chicken (rsa)
Mica Hardware
Spar
Zambeef Products
Large corporates
Other customers include
Contractors
Homes
Hospitals
Insurance Companies
Mines
Schools
Security Firms
Security consultancy Zamsafes and Alarms offer a security consultancy service to companies who are putting up new buildings, advising on the installation of safes, vaults and security doors. Their team is also able to reset or change key combinations or codes (subject to appropriate security checks), cut and replace keys and open locked safes, ATMs, vaults and strongroom doors. Zamsafes and Alarms general information
A trusted security company
Specialises in high security safes and alarms
Products manufactured by the company
Innovative high-tech designs
Full customer service for pre and post sales
Also supplies other quality steel products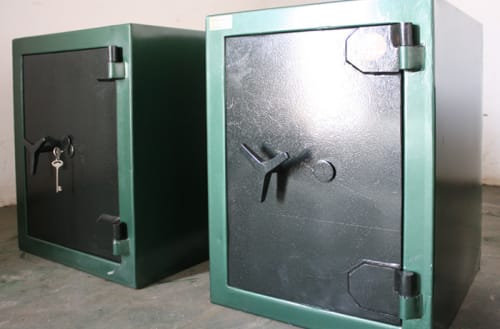 Zamsafes and Alarms · Metal fabrication and parts
Security systems
Zamsafes and Alarms has an extensive range of quality security safes, and can professionally install them. Every safe supplied is anti-explosive, fireproof and radioactive resistant. Their products range from category 5 vaults, strong room doors, security filing cabinets, cash canisters, cash in transit boxes, house and car alarms
Zamsafes products are tried, tested and backed by specialized equipment as well as an experienced production team. The team is reliable, emergency call out and service teams are available 7 days a week. Products are carefully designed and engineered with security of your assets in mind Product range
Money safes
Laptop and gun safes
Category 5 vaults
Strong room doors
Security filing cabinets
Cash canisters
Cash in transit boxes
House and car alarms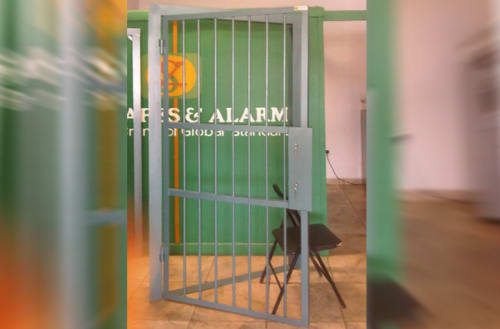 Zamsafes and Alarms · Security systems