Abseil Zambia
Abseil Zambia erected the world's first gorge swing in 1998. Since then thousands of people have thrown themselves down the Batoka Gorge in Livingstone, Zambia! Opt for the basic abseil, the gorge swing, the high wire, the rap jump and the whoopie slide, or do all of them in a full day booking. The view of the Victoria Falls and the Zambezi River is incredible. The gorge has been carved by the mighty Zambezi River. The gorge is an amazing place to abseil because it is around 350m wide and over 100m deep.
Contact details
Abseil Zambia has not updated their information in over a year and these details might be out of date.
Adventure
The offer a wide range of activities that include Gorge and Tandem swinging, Rap jumping, High wiring and whoopie sliding. With well trained and experienced Instructors who have maintained a 100% safety record, Abseil Zambia uses only top notch safety equipment and makes sure safety guidelines are followed.
Abseiling Zambia information
15 minute drive from the Victoria Falls
Full and half days include lunch & cool drinks
Activities can be booked separately
Pickups from Livingstone town and Zimbabwe
Instructors will brief you on the safety and proper use of all equipment and will tell you about the gorge and surrounding area
Visitors and spectators welcome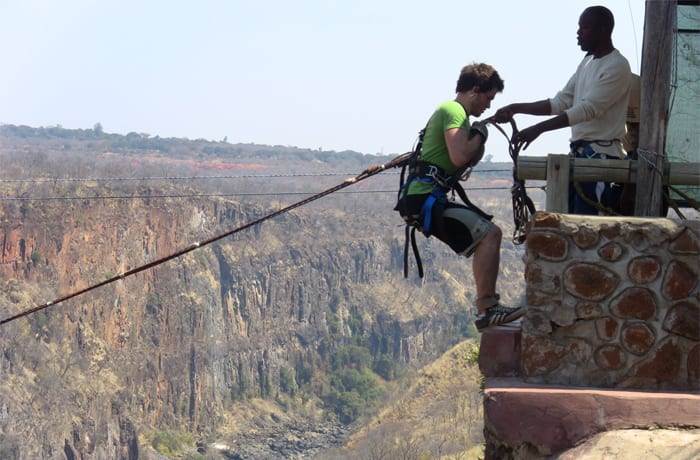 Abseil Zambia · Adventure